Alright, you have a couple of hours to spend between conference and dinner, chances are your starting point is a downtown venue. So what to do in downtown San Francisco when you're short of time? Read on.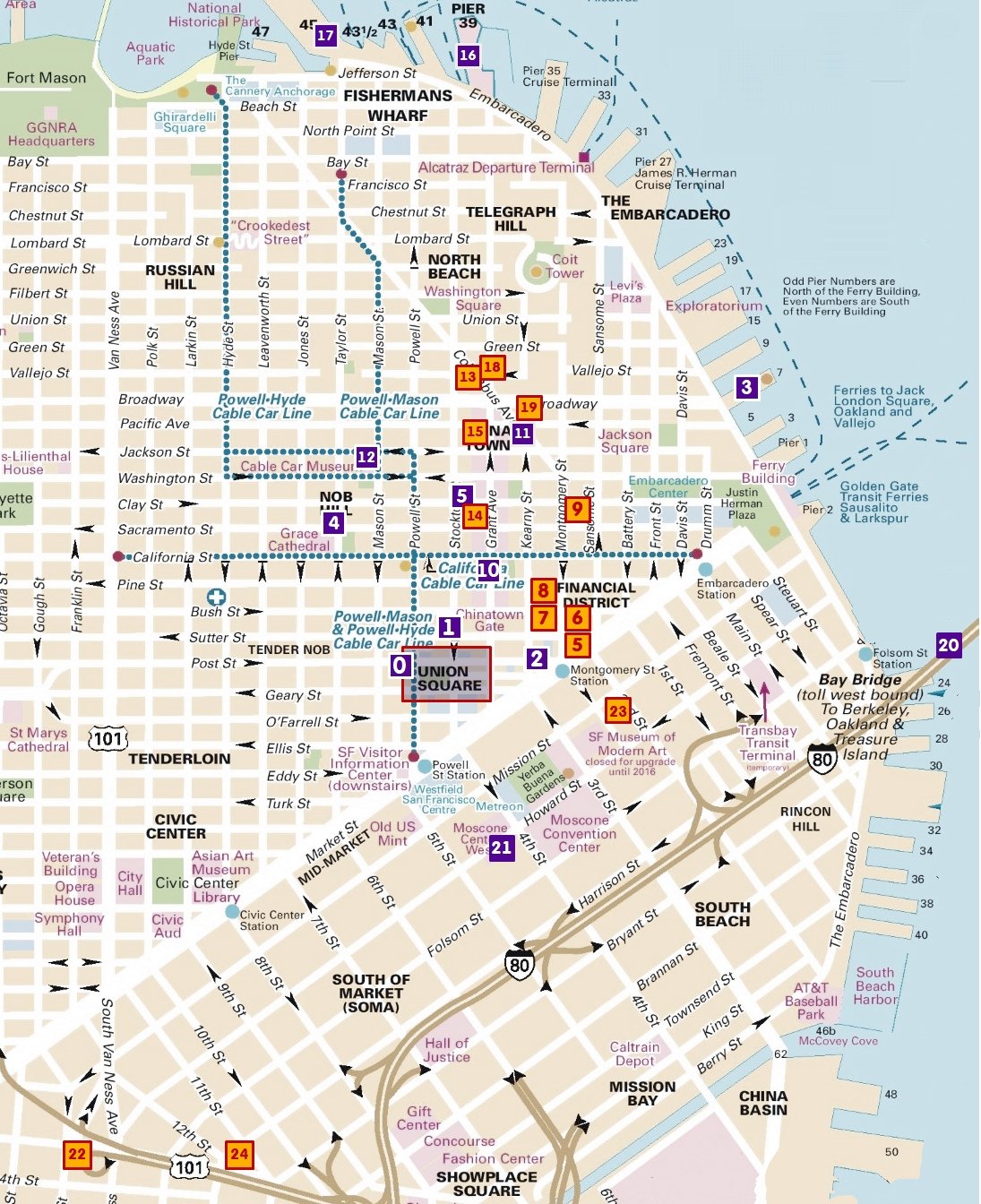 What to see in Financial District, San Francisco?
You sure won't miss the Golden Gate Bridge, the Transamerica Pyramid and the cable cars. But start at Union Square and use your time less touristy with our list of places to visit within walking distance. Use the map below.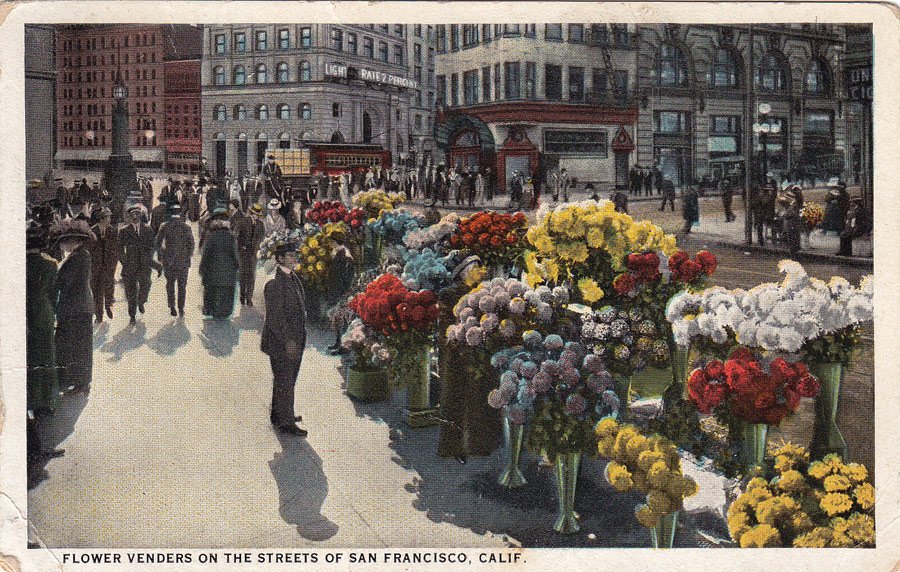 See also:
Mayan Splendor at 450 Sutter
Marvel the Mayan patterns that adorn the façade of this amazing building, then enter inside as the lobby is the real treasure there – walls and ceilings shine with intricate detail of art-deco and marble. A public building with helpful and often knowledgeable guards, it's one of the easiest locations to find, sitting across Grand Hyatt, just a block away of Union Square. Tip: Discover the one dark patch on the ceiling left intact after the decades-old (since 1929) tar residue from cigars was removed. 1 on map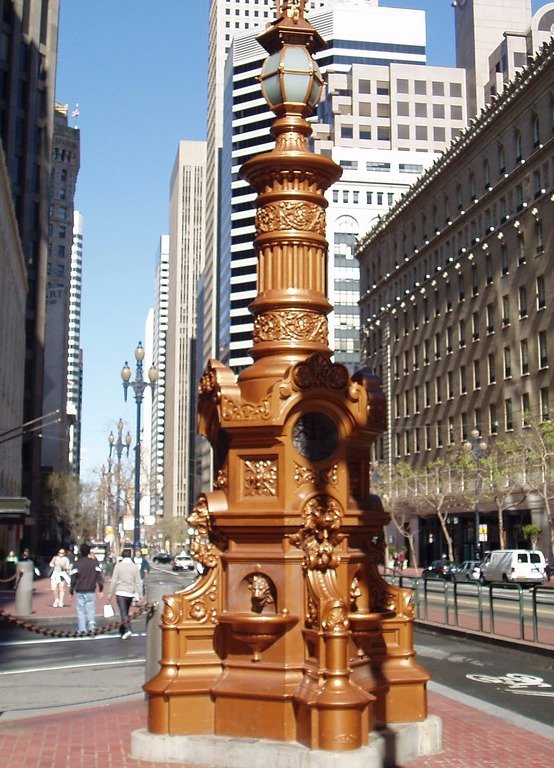 Lotta's Fountain● two blocks from Union Sq., corner of Market and Kearny St.
A meeting point for survivors of the 1906 earthquake to look for their relatives, San Francisco's oldest monument has survived every earthquake for more than a century. If you happen to visit the city on April 18th you can join the annual gathering commemorating the Great Earthquake at 5:12 a.m. Or just sleep well and pay a visit during the day. The monument was donated to the city in 1875 by the vaudeville performer Lotta Crabtree, and paid for by the gold thrown at her feet in appreciation by the Gold Rush diggers. Very nontrivial landmark, not crowded by tourists, it's worth a look and a selfie. 2 on map
---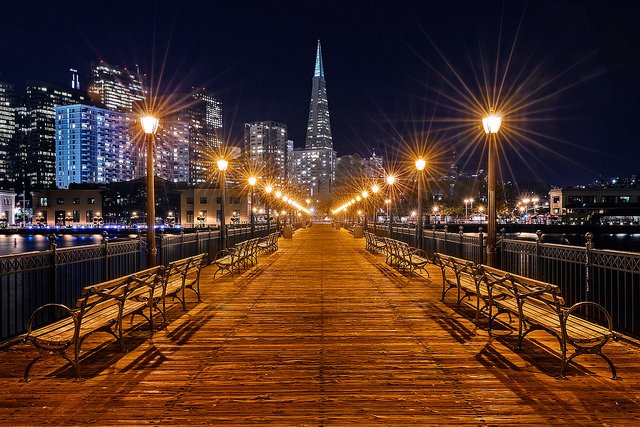 Pier 7 by Night
You'll find Pier 7 on the waterfront between Washington Street and Broadway. From the end of the pier a beautiful city lights view unfolds. The impeccable geometry of benches, streetlamps and skyline set up a great night photo. 3 on map
---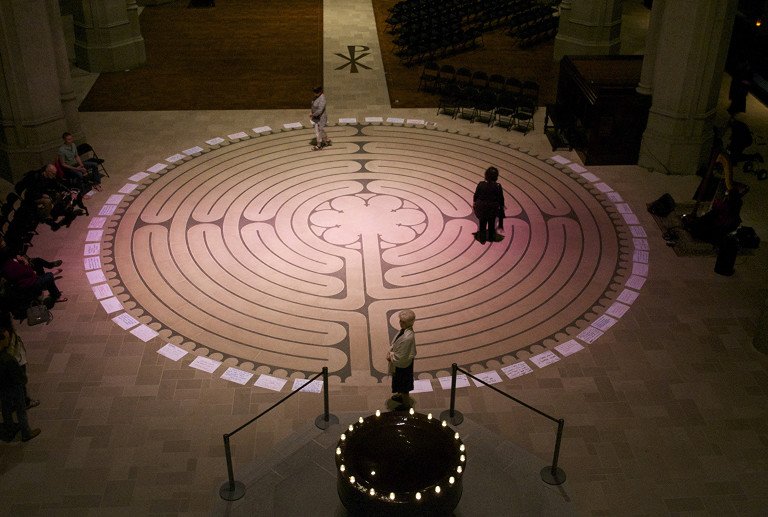 Grace Cathedral Labyrith ● 1100 California St
Circuit through the church's labyrinths. Grace Cathedral has two, an indoor one open during cathedral hours and an outdoor one that is accessible 24/7. On the second Friday of every month from 6 to 8 p.m., candlelight walks on the indoor labyrinth accompanied by live music are offered. Also, yoga classes on Tuesdays, from 6 p.m. 4 on map
---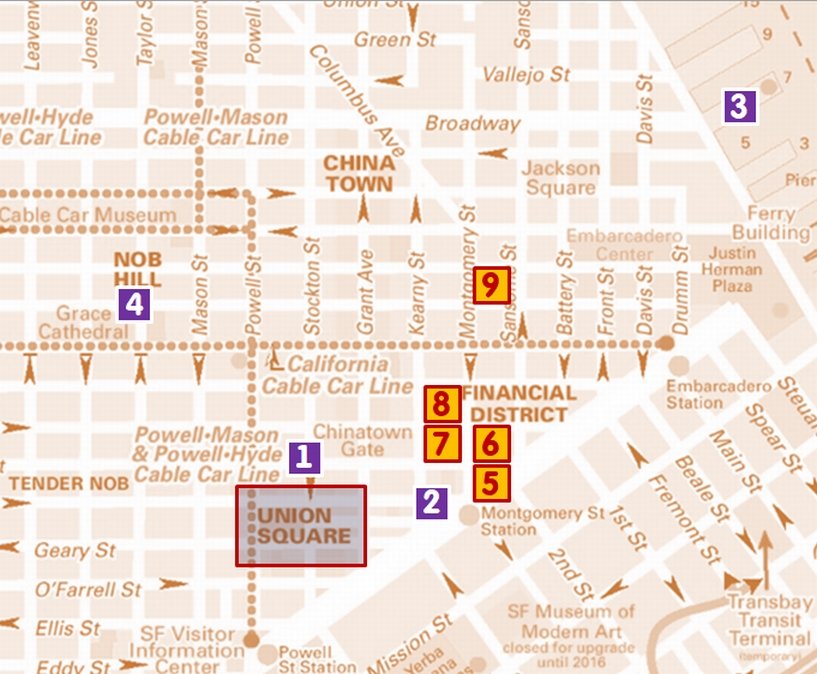 Where to eat and drink in Financial District, San Francisco?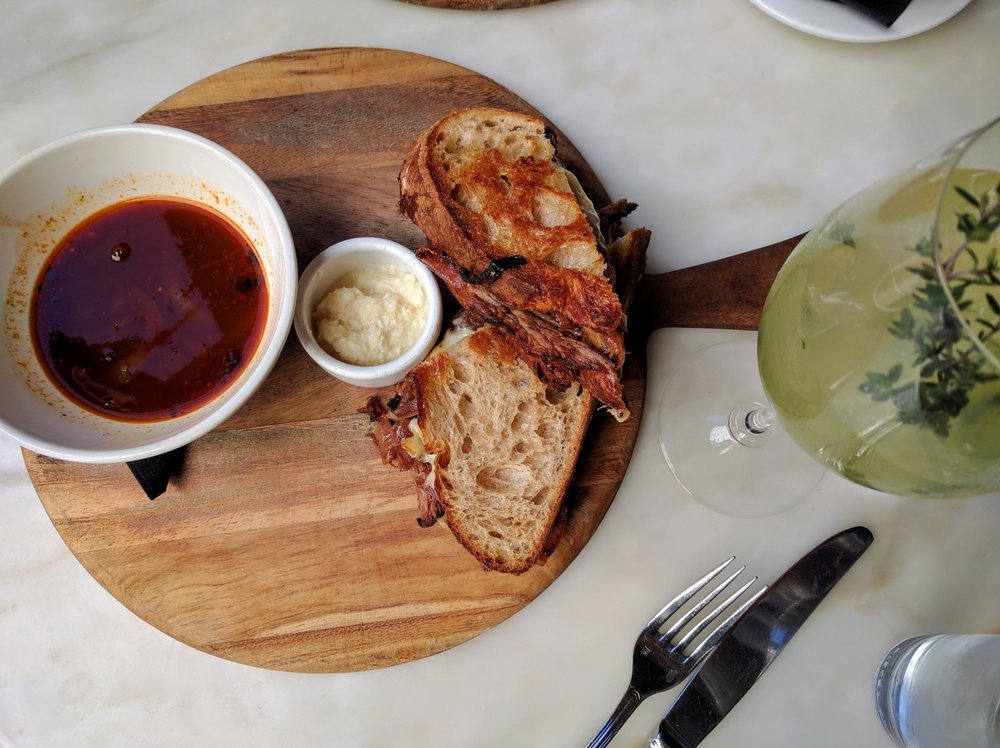 Per Diem ● 43 Sutter St
People go there for: the athmosphere;the tri-tip sandwich. Try the avocado toast too. 5 on map
The Treasury ● 115 Sansome St
Located in a 100-year-old Beau Art Building. People go there for: the cocktails. They are on the pricey side, mind. Food served; options. Try: popcorn is amazing. 6 on map
Pagan Idol● 375 Bush St
A Tiki bar. People go there for: the atmosphere; cocktails. Small place, crowded at weekends. Tacky. Fun. Try: the unexpected Mai Tai. Strictly no dance music, just tropical sounds of nature. And gods. 7 on map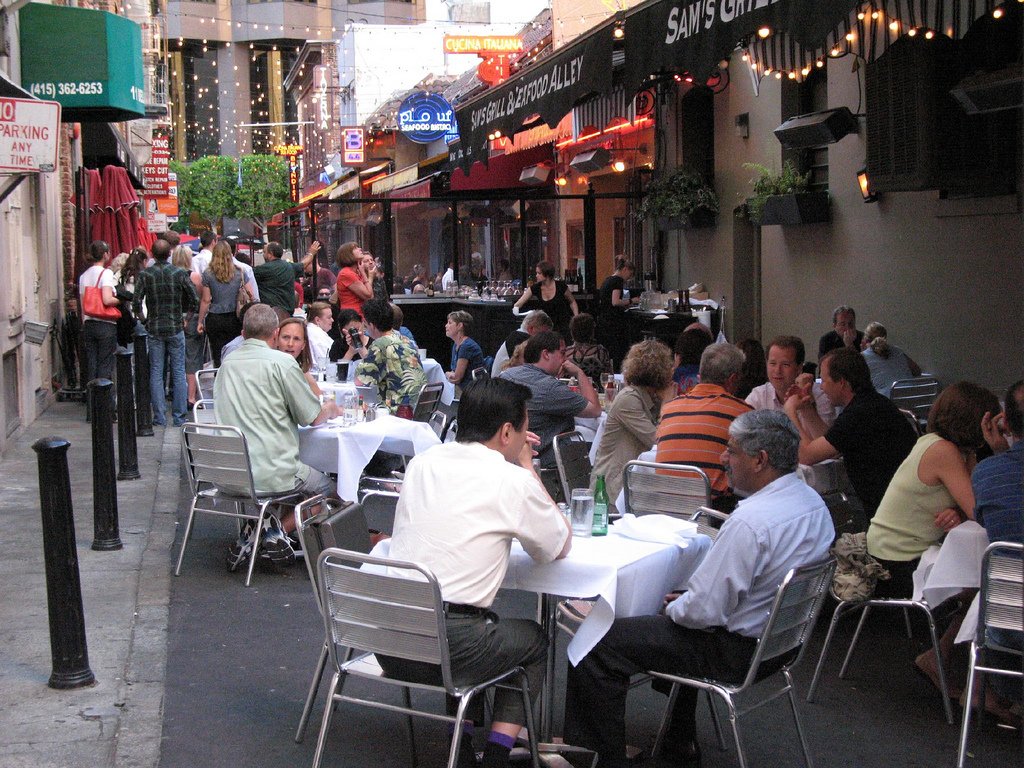 Belden Place ● Belden Pl
A collection of a dozen cafés and restaurants (French, Italian, Catalan, Irish, Japanese, Korean) in what used to be the French Quarter. People go there for: Mediterranean cuisine; World experience. Tiny pedestrian alley. Comfort.Try: every place. 8 on map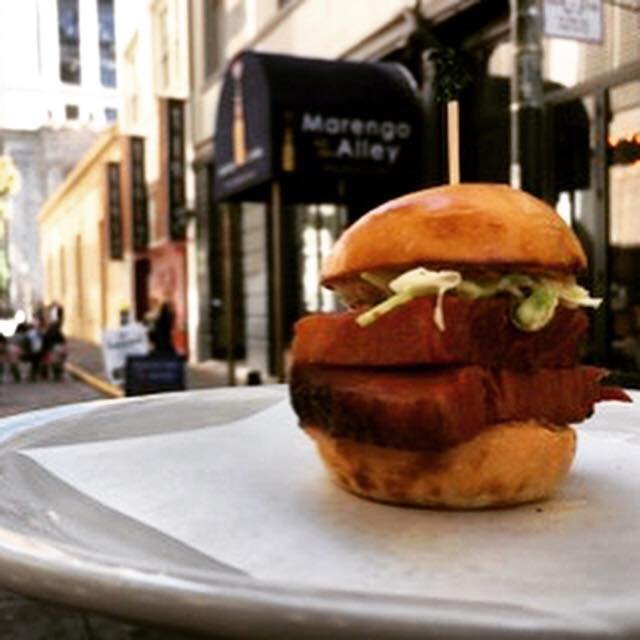 Marengo on The Alley ● 531 Commercial St
Pub, spacious, good for groups. People go there for: sliders and conversation. Try: Chili Verde soup. Retro music. Chill. 9 on map
---
Union Square and Free SF Tour
Best way to get introduced to the City is to join the Free SF Tour – a free walking tour that shares the history of San Francisco, the sunken ships in the Downtown, influential women, recent developments, tips and tricks to the city. It ends with with the famous Free SF Bucket List giveaway – an extensive insider list of San Francisco places and experiences. Free SF Tour operates two tours every day at 10 a.m. and 2 p.m. from Union Square, starting at the Tony Bennett's Heart at the corner of Post and Powell St. 0 on map