TOUR NOCTURNO GRATUITO DE SAN FRANCISCO A LAS 20.00.
¡SOLO EN ESPAÑOL! DE CHINATOWN A LITTLE ITALY: ¡UN VIAJE A TRAVÉS DE LOS CONTINENTES!
Inicio: 20.00 h Martes, ¡haz tu reserva!
Punto de partida: Dragon Gate, 500 Bush St (en Grant Ave). ¡Busca el paraguas naranja y blanco! Haz clic aquí para ver la ubicación en Google Maps

Termina: 22:00 en Little Italy. [ Mapa ]

¡Este tour es solo en español! Para un recorrido nocturno en inglés, haz clic aquí.
Embárcate en un tour cautivador que cierra la brecha entre la herencia asiática y europea de San Francisco, explorando las maravillas culturales de Chinatown y Little Italy. Acompáñanos mientras recorremos los encantadores callejones, nos adentramos en el intrigante mundo de las tenazas chinas y descubrimos los secretos de los callejones de juego ocultos, para luego sumergirnos gradualmente en el distrito italiano. ¡Descubre por qué todos los barrios chinos de EE. UU. están junto a Little Italy y aprende sobre las tradiciones culturales de estos dos barrios vibrantes!
El recorrido dura 2 horas y cubre la mayor parte de Chinatown y Little Italy. Aventúrate en los callejones ocultos, donde los cuentos de generaciones pasadas están grabados en las paredes antes de encontrarnos en el famoso distrito italiano, Little Italy. Experimenta la fascinante yuxtaposición de culturas, mientras las tradiciones china e italiana se mezclan armoniosamente. Contaremos historias sobre lugares, personas, arte, eventos históricos y temas de actualidad.
Visitamos Dragon Gate, Faroles Chinos, Catedral de Santa María la Antigua, Pagodas Antiguas, Ross Lane, Calles de Juego, El Lugar Bohemio, Arte Callejero de Banksy, Little Italy en San Francisco, la mejor pizzería de la ciudad y muchos otros puntos de interés a lo largo del camino.
El recorrido finaliza a las 22:00 horas. Nuestro gran final te espera en la mejor pizzería de la ciudad. Saborea los deliciosos sabores que reflejan el diverso tapiz cultural y brinda por las nuevas conexiones y amistades.
Precio: Paga lo que quieras al guía. Todos los guías son voluntarios y no son remunerados por el Gobierno de la Ciudad ni por ninguna otra institución. ¡Agradecemos tus propinas para mantener este recorrido en marcha!
El Tour a las 20.00. Reserva aquí
Las fechas marcadas en verde muy probablemente sucederán. Haz una reserva para sentirte seguro seleccionando una fecha. No olvides dejar tu número de teléfono por si acaso 😉
Better doing this tour before everything else, so that you can actually use all the hints you're gonna receive! (or at least try;))
Filip was awesome I really felt to learn to know the feeling of San Francisco.
This tour is a must. I learnt so much about San Francisco and are looking more of this type of tour
I had 4 walking tours with different companies. All the tours I had were good, but this one was the best! Filip, the guide, is really passionate about the city and is very good in conveying it.
Thank God for guys like Filip who love this City and love to share their experience & knowledge. I highly recommend this Tour before making other plans because he gives you lots of good tips to take full advantage of what SF has to offer.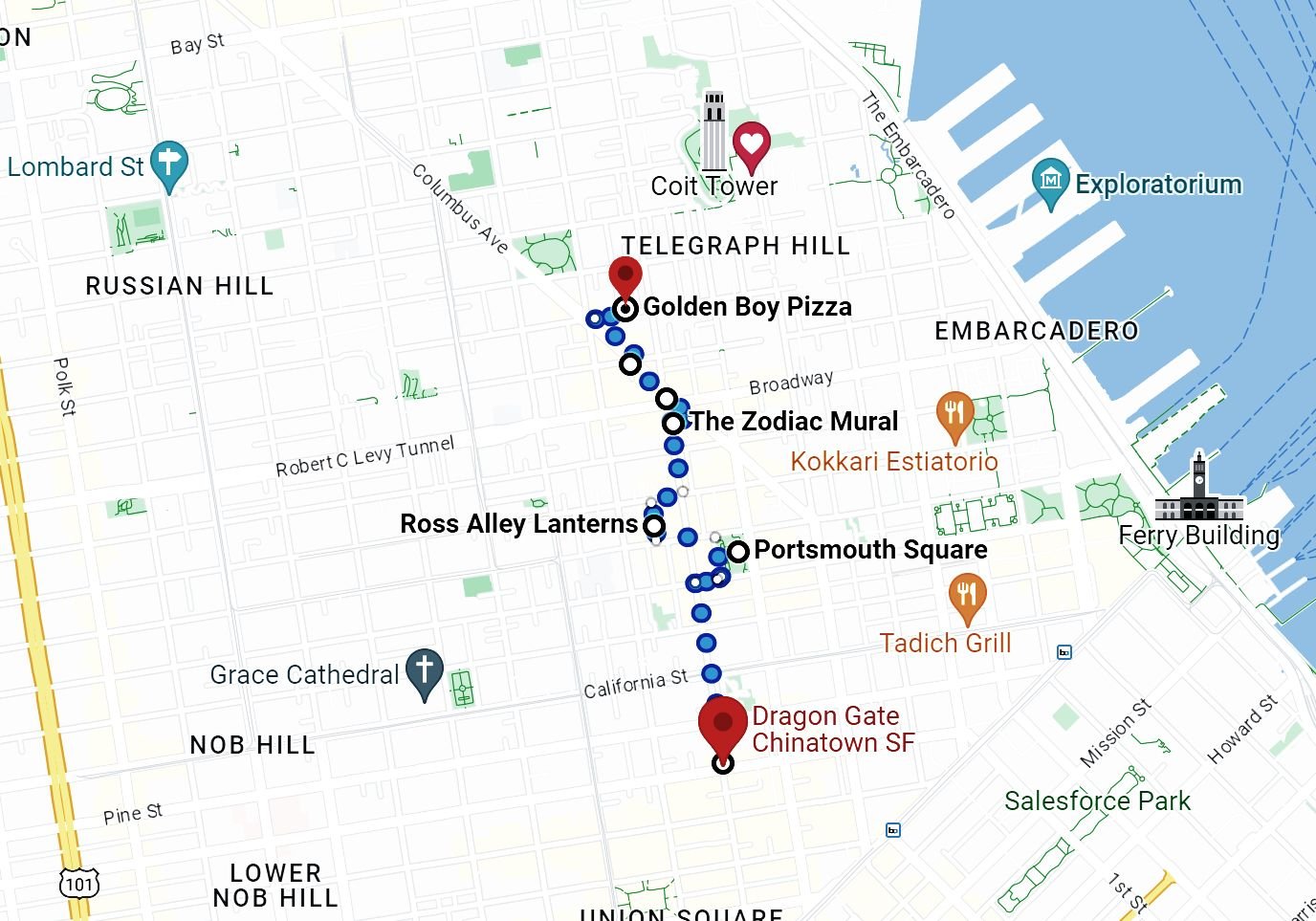 I have booked a tour to Alcatraz. Will I manage to the ferry after the tour?
The tour ends opposite Ferry Building. It takes 20 minutes by foot (or less) to reach Pier 33 where you board the ferry to Alcatraz.
Is the tour child-friendly? Can I bring a baby?
Yes, the tour is child-friendly. Children of all ages love the stories of buried ships under the buildings. Babies in strollers or carries are welcome too.
Can I bring a dog to the tour?
Yes, we have dogs on tours all the time:) Just make sure your pet is securely leashed.
How to get to Union Square from the SFO airport?
From SFO airport the closest BART station to Union Square is the Powell Street station. Catch the train going in the direction of San Francisco. It will be about a 30-minute ride to the Powell Street station. From there, it is only a 7-10 minute walk up Powell Street to Union Square where the Free SF Tour starts.
How to get to Union Square from the OAK airport?
From OAK airport to Union Square it takes about 45 minutes on the BART. After your arrival, go to the BART station going direction Oakland Coliseum (OAC). There you change to direction San Francisco / Daily City. The closest BART station to Union Square is the Powell Street Station. From there, it is only a 7-10 minute walk up Powell Street to Union Square where the Free SF Tour starts. To return to OAK, take a Berryessa or Dublin/Pleasanton-bound train to the Coliseum station and go upstairs to transfer to an OAK train at Platform 3.
Can I use the bathroom during the tour?
Yes, we make a bathroom/toilet stop halfway through the route. No worries!
How much is the usual donation? I don't want to overpay or lose face.
From experience, the average donation is $15 per person. Some people donate less, others are happy to give more. Remember, it's all up to you: if you have had a good time, tip the guide. If you didn't like the tour – well, don't.
It's raining. Will the tour get canceled?
No. The Free SF Tour happens rain or shine. Plus, it's San Francisco – one minute it's raining, the next you are enjoying glorious sunshine. Bring layers and nevermind the weather.
What if I am the only person turned up? Will the tour still happen?
Of course the tour will happen! It's just going to feel like a private tour with a knowledgeable, friendly guide all to yourself 🙂
Where to park my car?
It's a bit tight with parking spaces around Union Square, but you can still get lucky and park in the street. Alternatively, there are many convenient car parks in the Union Square vicinity. There's an underground garage just under Union Square – you can't get closer than that 🙂 Most charge around $6 per hour but you can find places for as low as $3-3.50. Check out this list of garages http://www.visitunionsquaresf.com/maps-parking-transportation (just click on "park" under the map).
I use a wheelchair. Is the route accessible?
Yes! The route is wheelchair- and stroller-friendly, and largely step-free. Despite the city's famously hilly terrain, our tour is makes the most of flat streets in Downtown. There might be a ramp here and there, but nothing to worry about.
I want to make a donation but hate cash. Do you take cards?
There are cashless options, yes. While we don't take credit cards directly, Paypal transfers are available. Also, Venmo app is growing in popularity among travelers.
Find us in Union Square
389 Post Street (corner of Powell and Post), Union Square
San Francisco, California ( MAP )
@ 10:00 AM the Free Walking Tour in English
@ 10:30 AM the Free Walking Tour in Spanish
@ 02:30 PM the Free Walking Tour in Spanish
@ 02.00 PM the Mission/Castro Free Walking Tour in English starting at Mission Dolores Basilica
@ 02:00 PM the North Beach Walking Tour in English
@ 06:00 PM the Vice Tour in English
@08.00 PM Chinatown to Little Italy Walking tour in Spanish
Drop us a line, we can help