FISHERMAN'S WHARF, ACROSS THE GOLDEN GATE BRIDGE TO SAUSALITO BILINGUAL BIKE TOUR: VIEWS AND STORIES
Days available: Tuesday, Friday, Saturday
Start: 3:00 pm
Duration: approx. 3 hours
Distance: 10 miles (16km)
Difficulty: Low/Medium (mostly flat)
Language: English and Spanish bilingual tour
Meeting point: Powell & Hyde Cable Car Turnabout (click for Google Maps location) Do not go to the bike rental shop without the tour guide. 
Price: $55 per person ($39 for kids)
You get to keep the bike for the rest of day (with 24h drop off location)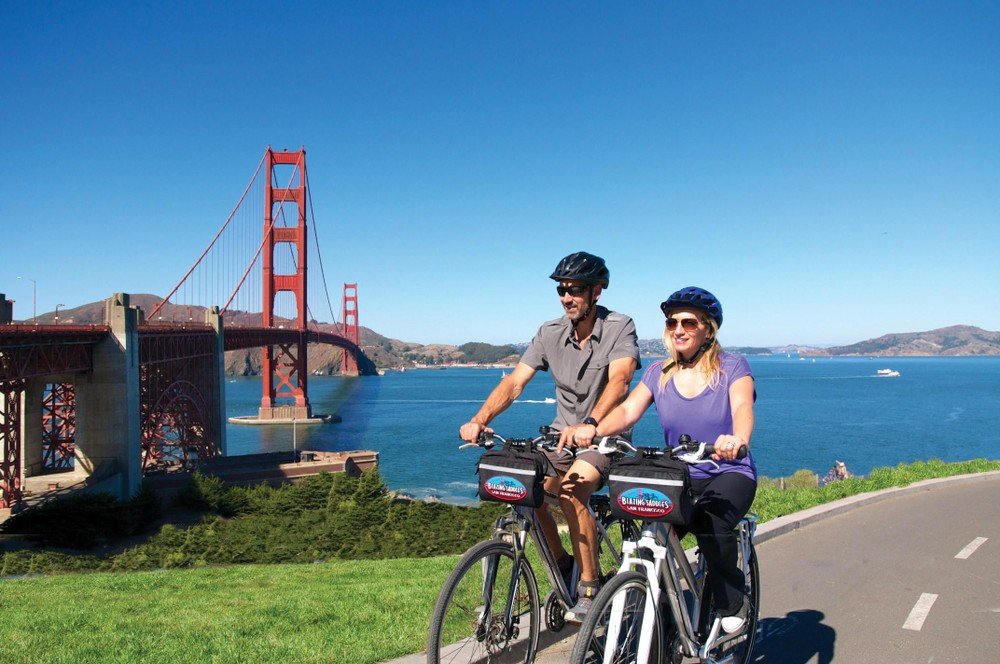 For groups 5+ people: Call/text us on 415-503-7199  and we can try to organize it any day of the week!
This is the first bilingual bike tour in San Francisco, with guide proficient in both English and Spanish! Definitely one of the best ways to get to know the San Francisco coast is by bike, the terrain is mostly flat although it does have a couple of inclines that might make us sweat a bit, after all San Francisco is famous for its hills.
On this tour we will go from Fisherman's Wharf to Sausalito passing through the best places and views on our way including Fort Mason, Wave Organ, Palace of Fine Arts, and Lucasfilm among others, we will cross the Golden Gate and descend to Sausalito. We will end the tour next to the Ferry Plaza in Sausalito and if you'd like you can stay there and eat in a restaurant, take the ferry back, or continue exploring the Marin on a bike. It's up to you! Because you can keep the bike for 24 hours and explore the city on your own.
IMPORTANT: The meeting point is at the cable car turnaround! > MAP < DO NOT GO ON YOUR OWN TO THE BIKE RENTAL SHOP. They will not rent you the bike without the tour guide being present.
How to reach the meeting point of the tour: From Market Street or Embarcadero Take the F line of the metro towards Fisherman's Wharf until the last stop in Jones St & Beach St, make a right on Beach St and walk two blocks until the meeting point across the street from The  Buena Vista. [MAP]
We visit Fort Mason, the Wave Organ, the Palace of fine arts, Lucasfilm, the Walt Disney Family Museum, Presidio Tunel Top, Torpedo Wharf, Vista Point, Golden Gate Bridge, Sausalito and many more non-touristic points along the way.
The tour ends at Plaza Viña del Mar Park in Sausalito where you can take the ferry back.
Click for Google Maps location to see where the tour ends. 
ESPAÑOL =================
Para grupos de 5+ personas: ¡Llámanos/text al 510-941-3027 intentaremos organizarlo cualquier día de la semana!
¡Este es el primer tour en bicicleta bilingüe en San Francisco, con un guía experto en inglés y español! Definitivamente, una de las mejores formas de conocer la costa de San Francisco es en bicicleta. El terreno es mayormente plano, aunque hay algunas subidas que podrían hacernos sudar un poco. Después de todo, San Francisco es famoso por sus colinas.
En este tour iremos desde Fisherman's Wharf hasta Sausalito, pasando por los mejores lugares y vistas en nuestro camino, incluyendo Fort Mason, Wave Organ, Palace of Fine Arts y Lucasfilm, entre otros. Cruzaremos el Puente Golden Gate y descenderemos hacia Sausalito. Terminaremos el tour junto a la Plaza del Ferry en Sausalito, y si lo deseas, puedes quedarte allí para comer en un restaurante, tomar el ferry de regreso o seguir explorando Marin en bicicleta. ¡Depende de ti! Porque puedes quedarte con la bicicleta durante 24 horas y explorar la ciudad por tu cuenta.
Olvídate del mapa y las indicaciones, ¡el guía coordinará todo el viaje hasta Sausalito!
IMPORTANTE: ¡El punto de encuentro es en el cambio del teleférico! > MAPA < NO VAYAS SOLO A LA TIENDA DE ALQUILER DE BICICLETAS. No te alquilarán la bicicleta sin que esté presente el guía turístico.
Cómo llegar al punto de encuentro: Desde Market Street o Embarcadero, toma la línea F del metro en dirección a Fisherman's Wharf hasta la última parada en Jones St & Beach St. Gira a la derecha en Beach St y camina dos cuadras hasta el punto de encuentro, al otro lado de la calle desde The Buena Vista.
Visitaremos Fort Mason, el Wave Organ, el Palace of Fine Arts, Lucasfilm, el Walt Disney Family Museum, Presidio Tunel Top, Torpedo Wharf, Vista Point, el Puente Golden Gate, Sausalito y muchos otros puntos no turísticos en el camino.
El tour termina en el Parque Plaza Viña del Mar en Sausalito, donde puedes tomar el ferry de regreso. [MAPA]
Route: 10 miles or 16 km
mostly flat
Find us in Union Square
389 Post Street (corner of Powell and Post), Union Square
San Francisco, California ( MAP )
@ 10:00 AM the Free Walking Tour in English
@ 10:30 AM the Free Walking Tour in Spanish
@ 02:30 PM the Free Walking Tour in Spanish
@ 02.00 PM the Mission/Castro Free Walking Tour in English starting at Mission Dolores Basilica
@ 02:00 PM the North Beach Walking Tour in English
@ 06:00 PM the Vice Tour in English
Drop us a line, we can help