Okay, let's admit it! A sweet cup of coffee can truly make your day and a tasty meal keeps the bad mood away. As we are now in San Francisco, the place to be for every coffee lover and foodie, we want to show you several yummy ideas where to fill your tummy.


Have the best espresso at Union Square Coffee

If you take coffee with your oxygen, you will love this cafe! Union Square Coffee has the most flavorful espresso in SF! Warm breakfast sandwich would be your best choice if your hungry! Meet the lovely personnel working behind the counter and start your day with a smile =)
Times of operation:
9 AM – 3 PM (Every Day)
After 2 PM you can also visit the coffee across the square called Alma! 
Location: Union Square (Geary and Powell Corner), MAP 
Try the Baked Bear Ice cream in North Beach

This place has a unique concept. They make custom ice cream sandwiches that come in fresh baked cookies or brownies with over a dozen original-recipe cookies and ice cream flavors, giving guests a chance to mix and match to find their favorite combination. Before they're served, the sandwiches can be rolled through toppings ranging from Fruity Pebbles to Oreo crumble, giving them an Instagram-worthy touch.
Our favorite: Ask for your ice cream sandwich to be warmed up! That's what makes this concept so unique! It's an amazing feeling of hot bun and cold ice cream! This will definitely be a good story to tell!
Location: 303 Columbus Ave (North Beach), MAP 
Try the Japanese Katsu Sandos from Katsuya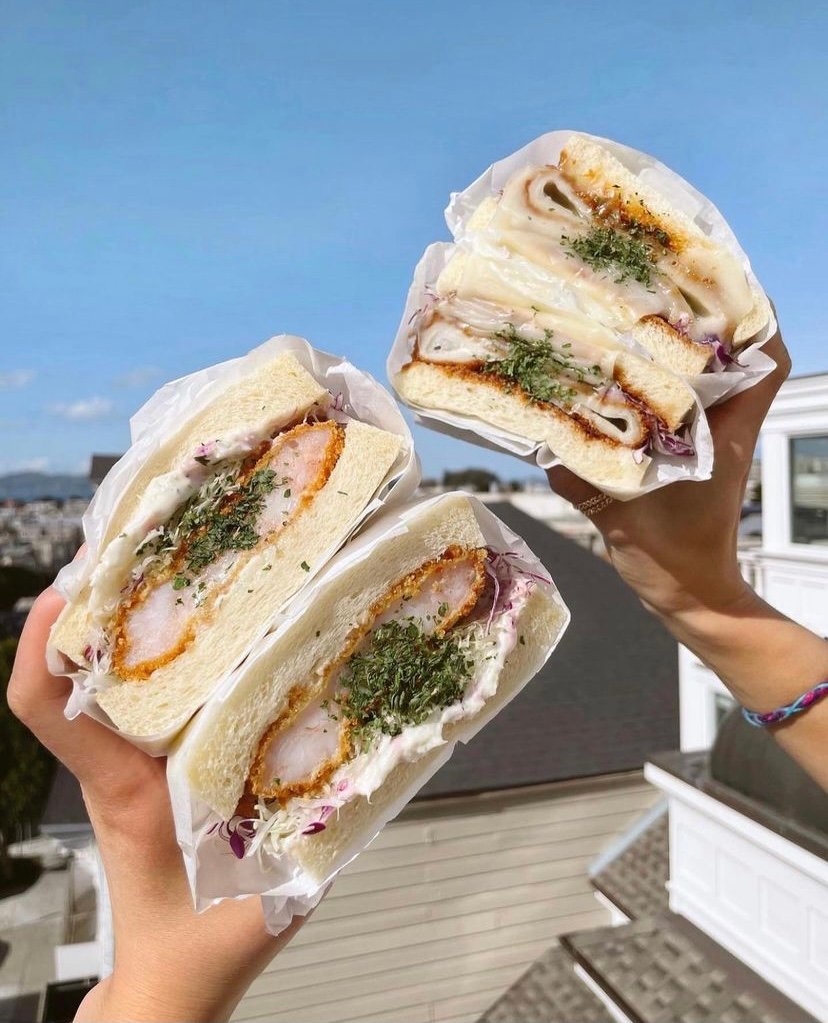 This place is located underground in the International Food Court. To get here you have to be really observant. You will be looking for a red oning with a door below. It's located on the corner of Bush st and Kearny street in the Financial District. After you go downstairs try to locate Katsuya corner.
This is the best Katsu Sando spot! Try ordering the Katsu Sando (pork cutlet) and the Ebi Sando (shrimp cutlet). If you're a cheese lover make sure to check out their Cheese Katsu. They also have a sandwich version.
Location: International Food Corner, (Financial District), MAP
If you wanna try the best ramen in town you gotta go to Mensho Tokyo SF: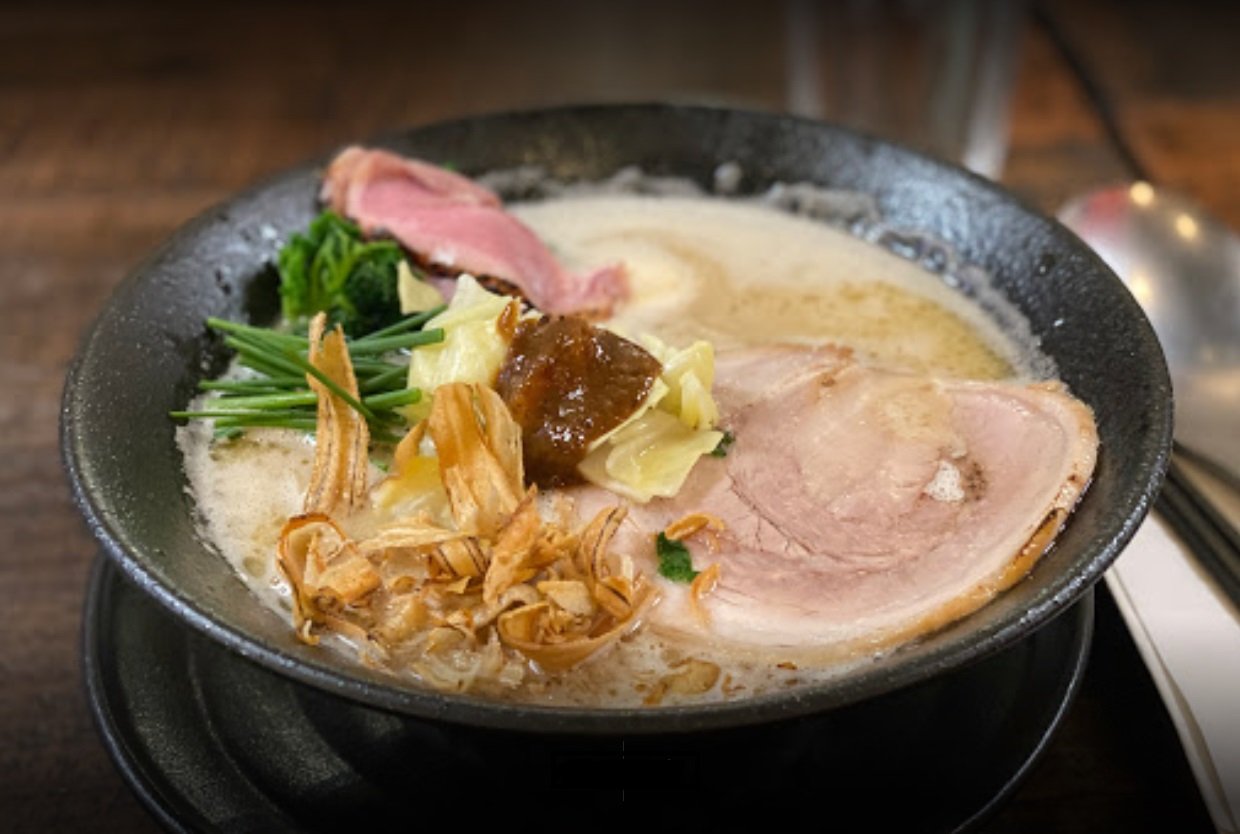 There is ramen and ramen. There are people that use spices and there are people that live spices! If you are in the area or you're hungry for ramen this is your place so you don't get disappointed. 
Usually, there is a line (don't be surprised if there are 15 people in front of you) everyone here is a foodie. Try one of their special ramen selections or the Tomato Miso Vegan Ramen. 
Location: 672 Geary Street (Tenderloin), MAP
Coffee & Co-working space in one: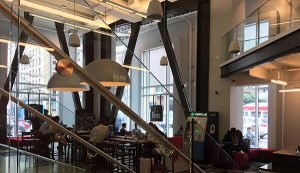 Peet's Coffee and CapitalOne Bank partnered in making coffee and co-working space to work for everyone! In this 3 level building with modern interior you have free WiFi, huge pillows to lay down, couches to feel like at home and many tables with chairs to work on your laptop. You can arrange meetings, do presentations and consult with a banker from CapitalOne! Did I mention 50% off any beverage with CapitalOne credit/debit card? Yup, that too. Here is their website for more information. (MAP)
Working hours: 7 AM – 6 PM (Monday- Friday)
Best Thai Ice Tea on Earth!
Try the Thai tea made from lovely Tai! She runs the business of a small caffe she started 15 years ago in the Outter Richmond district. Enjoy the great atmosphere and the stories Tai has to share. Secret gem of San Francisco.
​Location: 6900 Geary Blvd, San Francisco, CA 94121
Working hours: 7am -7pm Mon- Friday and 8:30-6 Sat-Sun
Tips: Get $1 Thai Ice Tea
Jane on Larkin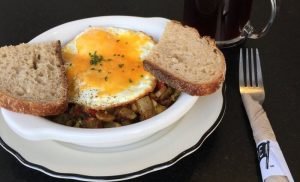 If you've paid attention to the first picture, you may notice that this is a place where people are talking to each other and not staring at laptops. The reason is obvious on number of reviews for this place on Foursquare and Yelp – there is no wifi! The service is very quick and the staff is extremely friendly. Among the yummiest things you can try is the egg white sandwich. The coffee is great as well, and the best thing is that the place is situated just 10 mins away from the meeting point of the tour,
Location: 925 Larkin St, San Francisco, CA 94109 (MAP)
Price Range: Moderate
Mazarine Coffee
This place is all about the coffee. They seem to worked quite hard on selecting the coffee and claiming that they want to create a café where "you can appreciate" the many types and sorts.
There is also food, of course. According to some tips on Foursquare, the avocado toast is a hit, as well as the Chévre, Radish, and Chives on Toasted Pain de Mie,
As it seems, the places is nice as trendy, so people do not recommend it for work. We would definitely add it on the list on places to get a cup of interesting coffee and a yummy toast on your way to Union Square before 10 AM in the morning.
Location: 720 Market St, San Francisco, CA 94102 (MAP)
Price Range: Cheap (you can easily get stuff below 10$)
Les Gourmands Bakery
Taste moth watering croissants in this 5 generations family owned French bakery! For Les Gourmands, breakfast is no joke. It's a synonym for strength and it's in your own interest to have a powerful one! Get free coffee with every pastry you buy in the bakery – just let them know Free SF Tour said so!
farm: table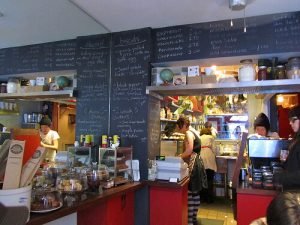 Farm Table is another coffee jewel near the starting point of Free SF Tour. It is perfect for breakfast or brunch as well.
What people love the most here are the eggs on croissant, the daily toast and soft greens with humboldt fog cheese. Between 2009 and 2016 the famous eggs on croissant are mentioned regularly as must-haves, which we think makes a place really special.
The cafe is small, so it's a perfect stop by as it would be hard to find a place to sit. Christina P. says about this place that "In a world of greasy, heavy, fatty brunches with huge portions, I loved going to this place with just a few fresh, handmade dishes made with fresh, seasonal ingredients."
Location: 754 Post St, San Francisco, CA 94109, (MAP)
Price Range: Cheap (you can easily get stuff below 10$)
Blue Bottle Coffee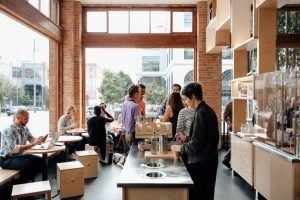 The Blue Bottle Coffee has a really high score on Foursquare – 9.4, which means if you are around, this is a good option for your morning coffee! But why is that?
The answer can be found online even before you visit and experience their coffee yourself:
"A great stop for hand-crafted artisanal coffee and small breakfast options", "Go to Blue Bottle at least three time. First get a simple espresso, second get a coffee from the Japan imported $20,000 vacuum coffee machine, third get the Kyoto style ice coffee" and"The New Orleans iced coffee with soy is epic, but the breakfast here is also amazing (poached eggs on toast)" are only 3 of the endless list of good tips. Definitely worth trying!
Location: 66 Mint Plaza (at Jessie St)San Francisco, CA 94103 (MAP)
Price Range: Moderate
Contraband Coffee bar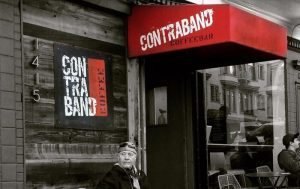 With its 8.8 rating on Foursquare, the Contraband Coffee bar is on the top of the list of most loved cafés in the area. There are people who believe that this is one of the places with the best coffee in San Francisco! Rumor has it that they even accept Bitcoin!
According to Phil Calçado "Great coffee, OK pastries, amazing service. Perfect to get some work done" and he's not the only one who loves to work from there (picture-proven!).
Location: 1415 Larkin St, San Francisco, CA 94109 (MAP)
Price Range: Moderate
Vesuvios Café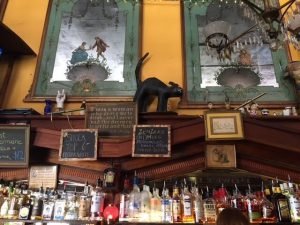 Vesuvios Café is located at 255 Columbus Ave, next to Jack Kerouac Alley [MAP]. It's an old-school saloon with lots of nooks and crannies and even a balcony with a great view for North Beach people-watching. Its many artefacts from the past and its whimsical atmosphere hearken back to the Victorian era as reflected through the Beat Generation. The walls are full of posters, paintings and photographs of Jack Kerouac, Lawrence Ferlinghetti, Allen Ginsburg, Neal Cassady and other notable poets and writers of this era… (click for more info and pictures)
​
Foundation Cafe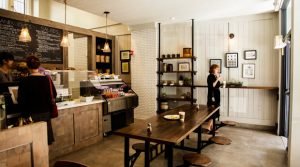 Tim Brandshaw said that this place is life-saving: "The avocado toast at breakfast time has saved my life several times". Even though the tips is from 2014, the newest ones suggest nothing has changed.
Perfect ending of our nice list of coffee places to help you start your rainy day fresh and prepare you for the lovely tour around downtown! Get a coffee and avocado toast and head to Union Square, we will be right there waiting for you.
Location: 335 Kearny St, San Francisco, CA 94104 (MAP)
Price Range: Moderate
Try the quesadilla at El Tesorro Taqueria and get free drink: Agua Fresca
Free house drink Agua Fresca with the order of every super quesadilla! That's two juicy slices of quesadilla with your choice of meat (carne asada is a favorite!) If you're not too hungry one quesadilla serves two people. El Tesoro has served San Francisco with a combination of love and passion for food since it opened 14 years ago—and the current staff and owner have been there since day one!
GET FREE DRINK WITH EVERT QUESADILLA!
Working hours:
10 AM – 1 AM (Sunday – Thursday)
10 AM – 2:30 AM (Friday – Saturday)
Location: 599 O'Farrell St, San Francisco, CA 94102 (MAP)
Try the Panzon burrito & get a free drink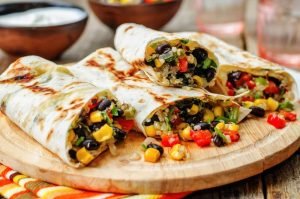 Panzon is a family-owned business serving authentic Mexican dishes in Financial District and SOMA. They are serving delicious burritos and are very proud of their home made salsas – made daily! Ask them for their signature Panzon salsa for a real kick!
GET FREE DRINK WITH EVERY BURRITO!
Working hours:
6:30 AM – 4 AM (Monday – Friday)
Location: 53 Stevenson St, San Francisco, CA 94105 (MAP)
Try out the best pizza by slice…in a punk bar!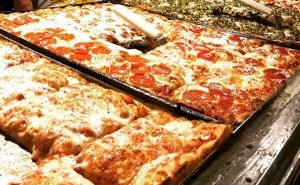 Golden Boy Pizza is our favorite pick when it comes to pizza slices! It's located right in the heart of the Italian district.
A 41-year-old pizza institution with the best crispy focaccia crust that you will find, come and enjoy a slice of heaven! This place turns into a punk bar at night! You can order your beer and sit inside surrounded by old school stickers and good old punk music because punk's not dead!
Working hours:
11:30 AM – 12 AM
Location: 542 Green St, San Francisco, CA 94133 (MAP)
Have a bite at Bite!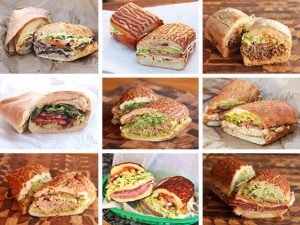 One of the best sandwiches you'll ever have. Period. These guys are trained to make the juiciest, tastiest rotisserie chicken sandwich in town! Hands down! Their founder once said, "Man doesn't live by the sandwich, but he should." He wasn't joking. He was totally serious. Bite is a small deli with sidewalk seating and street parking.
Working hours: 11 AM – 2 AM (every day)
Location: 912 Sutter St, San Francisco, CA 94109
Z&Y Restaurant
The cuisine here is really outstanding and the menu is really extensive, so there is something for everyone. World-renowned chef Han will rock your taste buds. It goes without saying that everything is very fresh and there are many interesting twists for the discriminating diner. For those who have a sensitive palate, stay away from the super spicy Szechuan dishes that Z&Y is known for… (more info and pictures) Chinatown. Click for map
China Live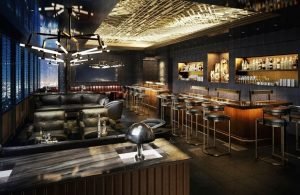 One of the best modern Chinese restaurants in the city! Be sure to check out their dumplings! Incredibly falvorful and tasty.
Working hours: 11am – 10 pm
Location: 644 Broadway st, San Francisco, CA, 94109
House Of Prime Rib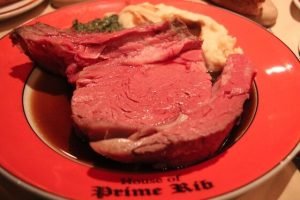 A Bay Area institution with a cult following, House of Prime Rib has been serving quality cuts to locals and tourists alike since the 1940s. In fact, the iconic restaurant goes through upwards of 5,000 pounds of meat per week(!), which means that the shiny steel-domed "meat zeppelins" that make the restaurant so fun, have carted around millions and millions of pounds of prime rib over their long life. That's a lot of meat sweats.
Location: 1906 Van Ness Ave, San Francisco, CA 94109 (MAP)
Price Range: a bit more pricey at $31-$60
House of Nanking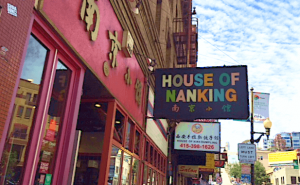 You won't be shanghaied here at the House of Nanking, and though you might experience the cold shoulder if you linger too long, the food makes it more than worth it. House of Nanking located at 919 Kearny Street on the outskirts of Chinatown [MAP] is one of our favorite Chinese eateries in San Francisco. It has a vibrant, casual atmosphere and excellent cuisine… (click for more info and pictures)
Brenda's French Soul Food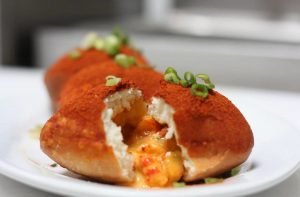 Folks with 'big appetites' like this New Orleans–style soul food joint in the Tenderloin, citing 'exceptional' dishes like its 'divine' shrimp and grits and 'out-of-this-world' beignets; 'cheap' tabs and a no-rezzie rule make for "long waits" ("judging by the lines, you'd think it was free"), but fans insist it's so "worth it." quoting "The crawfish beignet was to die for".
Location: 652 Polk St, San Francisco, CA 94102 (MAP)
NO RESERVATIONS
Price Range: Moderate
Burma Superstar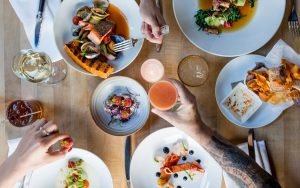 If you have never tried Burmese food, then make sure your first time would be in Burma Superstar. Clocking in at 5600+ reviews, this is probably the most popular place in SF. The place might be rather small, and may involve some queuing but you should come here at least once and try their exotic offerings 🙂
Location: 309 Clement St, San Francisco, CA 94118 (MAP)
Price Range: Moderate
Burma Love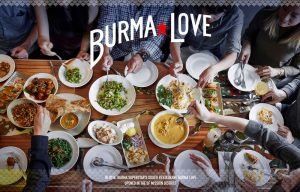 If you are already a huge fan of Burmese food than make sure you don't miss Burma Love!
While Burma Superstar features everyday favorites found in Myanmar, Burma Love expands and deepens the Myanmar cuisine experience by introducing classic dishes that are shared at family feasts, all prepared with traditional ingredients. You may find your dishes a bit more spicy and a bit more concentrated in flavor.
Location: 211 Valencia St, San Francisco, CA 94103 (MAP)
Price Range: Moderate
IKE'S PLACE
Ike's Place is the Place to be when it comes to sandwiches. The menu offers a variety of 200 different types to suite any taste. Coming to Ike's Place there are 3 things you must remember. Firstly, the sandwiches are complicated and messy, in the most satisfying way possible. Second, the lines are always out the door. And third and foremost, the secret Dirty Sauce is the stuff dreams are made of. (MAP)
Curry Up Now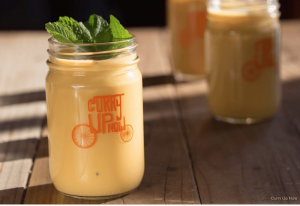 Curry Up Now has three restaurants in the Bay Area serving pretty tasty dishes best described as "Indian fusion." Curry Up Now is also known for having the first Indian food truck in San Francisco. The restaurant toots that it serves Indian chaat street food, like vada pav, papdi chaat, samosas and more. The fusion label comes from the quirky items offered here, such as burritos with an Indian soul, with filling choices that include paneer, lamb, aloo gobi and tofu. (MAP)
Myriad Gastropub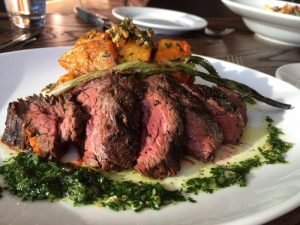 Hidden in the less-hip part of The Mission (in the former Nombe space), you'll find beer-friendly bites courtesy prepared by Chef Tricia Tracey. Myriad Gastropub is a neighborhood gathering-place, that offers a relaxed and friendly environment where boldly flavored, thoughtfully sourced food and drinks bring friends and family together and nourish the soul. (MAP)
Molinari Delicatessen – Sandwich shop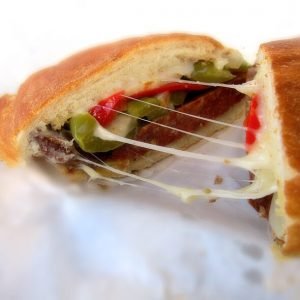 There is no better Italian deli in town than Molinari. This North Beach landmark has been been serving up fat, juicy, Italian-inspired sandwiches since 1896! How can you question that?! Grab a ticket and pick out your bread (the Dutch Crunch is a local fave) before you order. The best sandwiches feature ample piles of Molinari salami, from the North Beach Special featuring prosciutto and provolone to the Italian Combo, a gorgeous pile of all of the meats (ever). (MAP)