Join the One free Walking Tour You'd Ever Need in San Francisco!
Starts: 10 am every day, rain or shine, make a booking!
Starting point: Union Square, at the corner of Post and Powell streets. Look for the white-red umbrella saying FREE TOUR in the middle! Click here for Google Maps location.
Ends: 12:30 pm at Embarcadero, opposite Ferry Building. Click here for Google Maps location.


Check the calendar below before the tour. If your date is green, it's 99% safe to join the tour without a booking. But if you don't find us in Union Square, it's because we couldn't warn you in those 1% of occasions. Make a booking, we say. 

The tour follows the Free Tour concept famous all over the world. You get a tour guide that knows a lot about the city and walks with you as you would walk with a friend. We are not financed or supported by any entity. Our tour guides make their income solely off of the donations given by the people visiting their tour.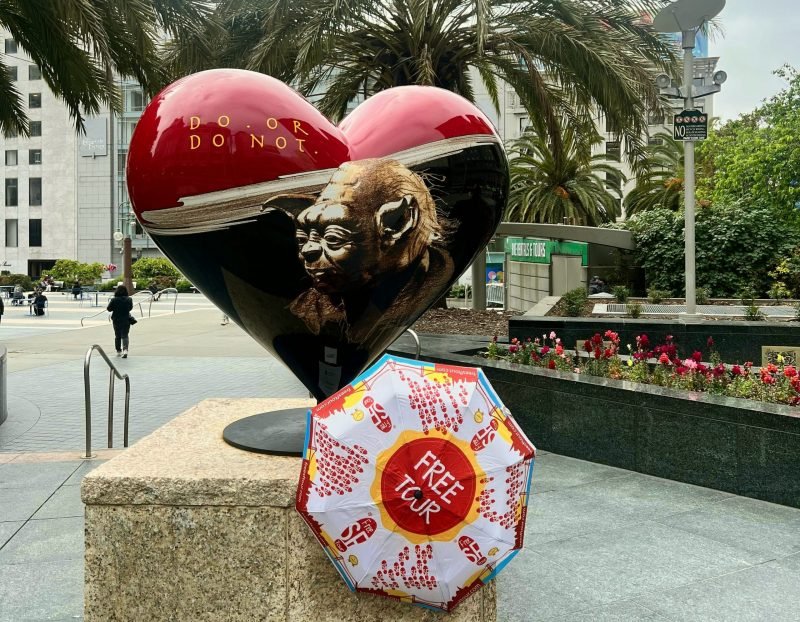 The tour takes 2 and a half hours and it covers most of downtown San Francisco: Union Square, Chinatown, Financial District, and Embarcadero. It's more fun facts and relaxed conversations than actual walking so you'd never get tired or bored.  We'd be telling stories about places, people, historic events and current affairs; buried ships under the buildings, influential women, gold-diggers and earthquakes.
We visit Union Square, Maiden Lane, Grant Avenue, Dragon Gate, Golden Gate Chinese Cookie Factory, Ross Lane, Portsmouth Square, Transamerica Pyramid, Embarcadero and many more non-touristic points along the way.
The tour ends opposite Ferry Building from where you can take a walk to Pier 39 and the sea lions. It takes 20 minutes by foot to catch the ferry to Alcatraz at Pier 33.
Price: Pay-as-you -wish to the guide. All guides are volunteers and not paid by the City Government or any other institution. We appreciate your tips to keep this tour running!
Check when we are on at 10 am
Dates marked green will most probably happen. Make a booking to feel safe by selecting a date. Don't forget to leave your phone number just in case 😉

If you don't see your date open, please you put your name on the THE WAITLIST and we will contact you. Go to ENGLISH TOUR WAITLIST
Better doing this tour before everything else, so that you can actually use all the hints you're gonna receive! (or at least try;))
Filip was awesome I really felt to learn to know the feeling of San Francisco.
This tour is a must. I learnt so much about San Francisco and are looking more of this type of tour
I had 4 walking tours with different companies. All the tours I had were good, but this one was the best! Filip, the guide, is really passionate about the city and is very good in conveying it.
Thank God for guys like Filip who love this City and love to share their experience & knowledge. I highly recommend this Tour before making other plans because he gives you lots of good tips to take full advantage of what SF has to offer.
I have booked a tour to Alcatraz. Will I manage to the ferry after the tour?
The tour ends opposite Ferry Building. It takes 20 minutes by foot (or less) to reach Pier 33 where you board the ferry to Alcatraz.
Is the tour child-friendly? Can I bring a baby?
Yes, the tour is child-friendly. Children of all ages love the stories of buried ships under the buildings. Babies in strollers or carries are welcome too.
Can I bring a dog to the tour?
Yes, we have dogs on tours all the time:) Just make sure your pet is securely leashed.
How to get to Union Square from the SFO airport?
From SFO airport the closest BART station to Union Square is the Powell Street station. Catch the train going in the direction of San Francisco. It will be about a 30-minute ride to the Powell Street station. From there, it is only a 7-10 minute walk up Powell Street to Union Square where the Free SF Tour starts.
How to get to Union Square from the OAK airport?
From OAK airport to Union Square it takes about 45 minutes on the BART. After your arrival, go to the BART station going direction Oakland Coliseum (OAC). There you change to direction San Francisco / Daily City. The closest BART station to Union Square is the Powell Street Station. From there, it is only a 7-10 minute walk up Powell Street to Union Square where the Free SF Tour starts. To return to OAK, take a Berryessa or Dublin/Pleasanton-bound train to the Coliseum station and go upstairs to transfer to an OAK train at Platform 3.
Can I use the bathroom during the tour?
Yes, we make a bathroom/toilet stop halfway through the route. No worries!
How much is the usual donation? I don't want to overpay or lose face.
From experience, the average donation is $15 per person. Some people donate less, others are happy to give more. Remember, it's all up to you: if you have had a good time, tip the guide. If you didn't like the tour – well, don't.
It's raining. Will the tour get canceled?
No. The Free SF Tour happens rain or shine. Plus, it's San Francisco – one minute it's raining, the next you are enjoying glorious sunshine. Bring layers and nevermind the weather.
What if I am the only person turned up? Will the tour still happen?
Of course the tour will happen! It's just going to feel like a private tour with a knowledgeable, friendly guide all to yourself 🙂
Where to park my car?
It's a bit tight with parking spaces around Union Square, but you can still get lucky and park in the street. Alternatively, there are many convenient car parks in the Union Square vicinity. There's an underground garage just under Union Square – you can't get closer than that 🙂 Most charge around $6 per hour but you can find places for as low as $3-3.50. Check out this list of garages http://www.visitunionsquaresf.com/maps-parking-transportation (just click on "park" under the map).
I use a wheelchair. Is the route accessible?
Yes! The route is wheelchair- and stroller-friendly, and largely step-free. Despite the city's famously hilly terrain, our tour is makes the most of flat streets in Downtown. There might be a ramp here and there, but nothing to worry about.
I want to make a donation but hate cash. Do you take cards?
There are cashless options, yes. While we don't take credit cards directly, Paypal transfers are available. Also, Venmo app is growing in popularity among travelers.
Find us in Union Square
389 Post Street (corner of Powell and Post), Union Square
San Francisco, California ( MAP )
@ 10:00 AM the Free Walking Tour in English
@ 10:30 AM the Free Walking Tour in Spanish
@ 02:30 PM the Free Walking Tour in Spanish
@ 02.00 PM the Mission/Castro Free Walking Tour in English starting at Mission Dolores Basilica
@ 02:00 PM the North Beach Walking Tour in English
@ 06:00 PM the Vice Tour in English
Drop us a line, we can help