Rich History and Iconic Views: Join the North Beach / Italian District Free Walking Tour
Starts: 2 pm Wednesdays, rain or shine, make a booking!
Starting point: Saints Peter and Paul Church.  Click here for Google Maps location.
Look for the white and orange umbrella!
Ends: 4:30 pm at Powell & Hyde Cable Car Turnabout. Click here for Google Maps location.
The tour follows the Free Tour concept famous all over the world. You get a tour guide that knows a lot about the city and walks with you as you would walk with a friend. We are not financed or supported by any entity. Our tour guides make their income solely off of the donations given by the people visiting their tour.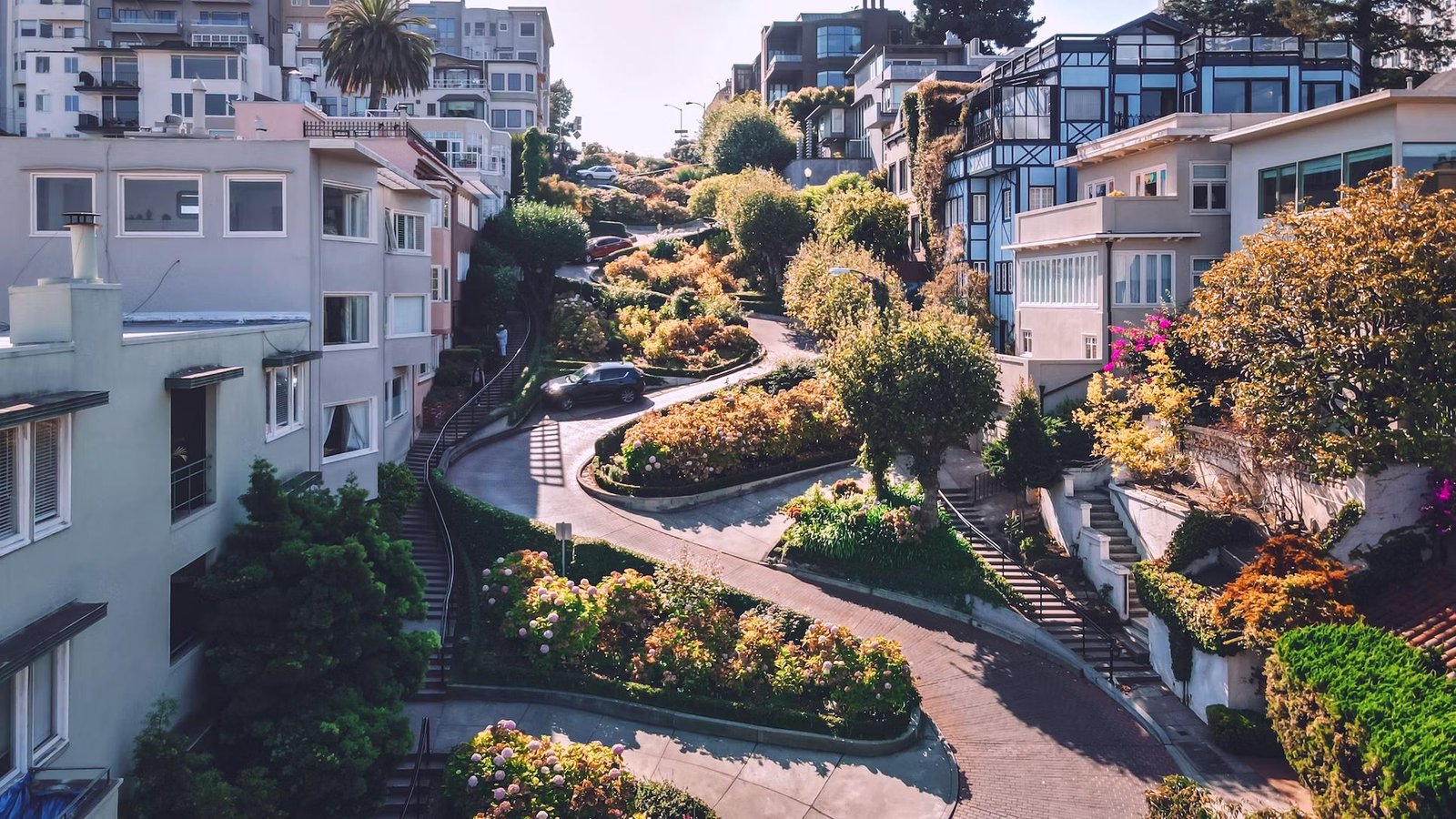 Get ready to explore San Francisco's most iconic sights on this exciting walking tour! Starting from the St. Peter and Paul Cathedral, we'll take a leisurely stroll through Washington Square, a bustling hub of activity in the heart of North Beach. From there, we'll make our way up to a hidden garden, where you can take a break and enjoy the peaceful surroundings.
As we continue through the small alleyways, we'll climb up to the world-famous Lombard Street, with its steep, winding curves and stunning views of the city. From the top, you'll see the cable cars making their way down the hill, providing the perfect photo opportunity.
Next, we'll head to Ghirardelli Square, where you can indulge in some of the best chocolates and ice cream in the city. After satisfying our sweet tooth, we'll end the tour at the Cable Car Turnaround, where you can watch the iconic cable cars make their famous turns.
The tour will last approximately 2.5 hours and cover a distance of 1.8 miles (2.9 km), with one hill climb providing breathtaking views. So put on your walking shoes and come explore the best of San Francisco with us!
The tour takes 2 and a half hours.
The tour ends at Powell & Hyde Cable Car Turnabout (click for map), a stone throw away from Hyde Street Pier and Aquatic Cove
Price: Pay-as-you -wish to the guide. All guides are volunteers and not paid by the City Government or any other institution. We appreciate your tips to keep this tour running!
Check the available dates
Dates marked green will most probably happen. Make a booking to feel safe by selecting a date. Don't forget to leave your phone number just in case 😉
Better doing this tour before everything else, so that you can actually use all the hints you're gonna receive! (or at least try;))
Filip was awesome I really felt to learn to know the feeling of San Francisco.
This tour is a must. I learnt so much about San Francisco and are looking more of this type of tour
I had 4 walking tours with different companies. All the tours I had were good, but this one was the best! Filip, the guide, is really passionate about the city and is very good in conveying it.
Thank God for guys like Filip who love this City and love to share their experience & knowledge. I highly recommend this Tour before making other plans because he gives you lots of good tips to take full advantage of what SF has to offer.
Find us in Union Square
389 Post Street (corner of Powell and Post), Union Square
San Francisco, California ( MAP )
@ 10:00 AM the Free Walking Tour in English
@ 10:30 AM the Free Walking Tour in Spanish
@ 02:30 PM the Free Walking Tour in Spanish
@ 02.00 PM the Mission/Castro Free Walking Tour in English starting at Mission Dolores Basilica
@ 02:00 PM the North Beach Walking Tour in English, starts at Saints Peter and Paul Church. Map
@ 06:00 PM the Vice Tour in English
Drop us a line, we can help