Slideseeing: The city's steep terrain has to have some advantages besides vistas.
1. Slides in Golden Gate Park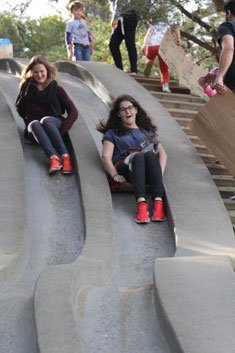 Golden Gate Park is your go-to place in San Francisco for all things fun and relax – with kids or on a kid-free day. These bumpy concrete slides with shallow chutes are the oldest and well-known in San Francisco. Thing is, the slides in Koret's Children's Quarter in Golden Gate Park are safe for kids and exciting enough for adults with a right cardboard-riding technique. In case you need a refresh on how to slide, be sure some of the little menaces around will provide you with a piece of advice without asking. Just bring your own cardboard and don't forget to take your trash with you.
Hint: Gets quite busy after lunch; waiting in line for your turn is not uncommon;
Working hours: 24/7 (park), leave well before sunset (slides)
Kezar Dr – behind Kezar Stadium Map
2. Slides in Mission Dolores Park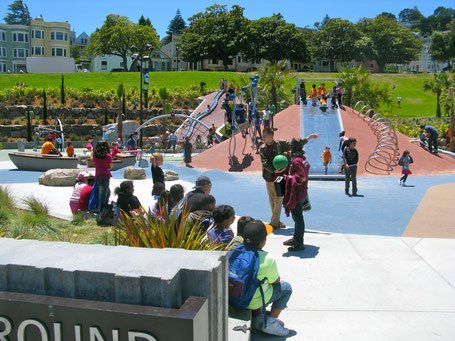 The revamped Hellen Diller Playground in Dolores Mission Park features shiny aluminium slides. The curvy taller one welcomes the 5 y.o. and up. 45 feet downhill riding a plastic blag is one not to miss. Top points for the views of the city! For the younger ones there is a smaller wide slide. Lots to do with kids or on your own besides sliding.
Hint: Bring sunscreen. Wind on a sunny day can lull your skin into a false sense of security.
Working hours (park): 6am – 10 pm
18th St. and Dolores St.
3. Seward Street Slides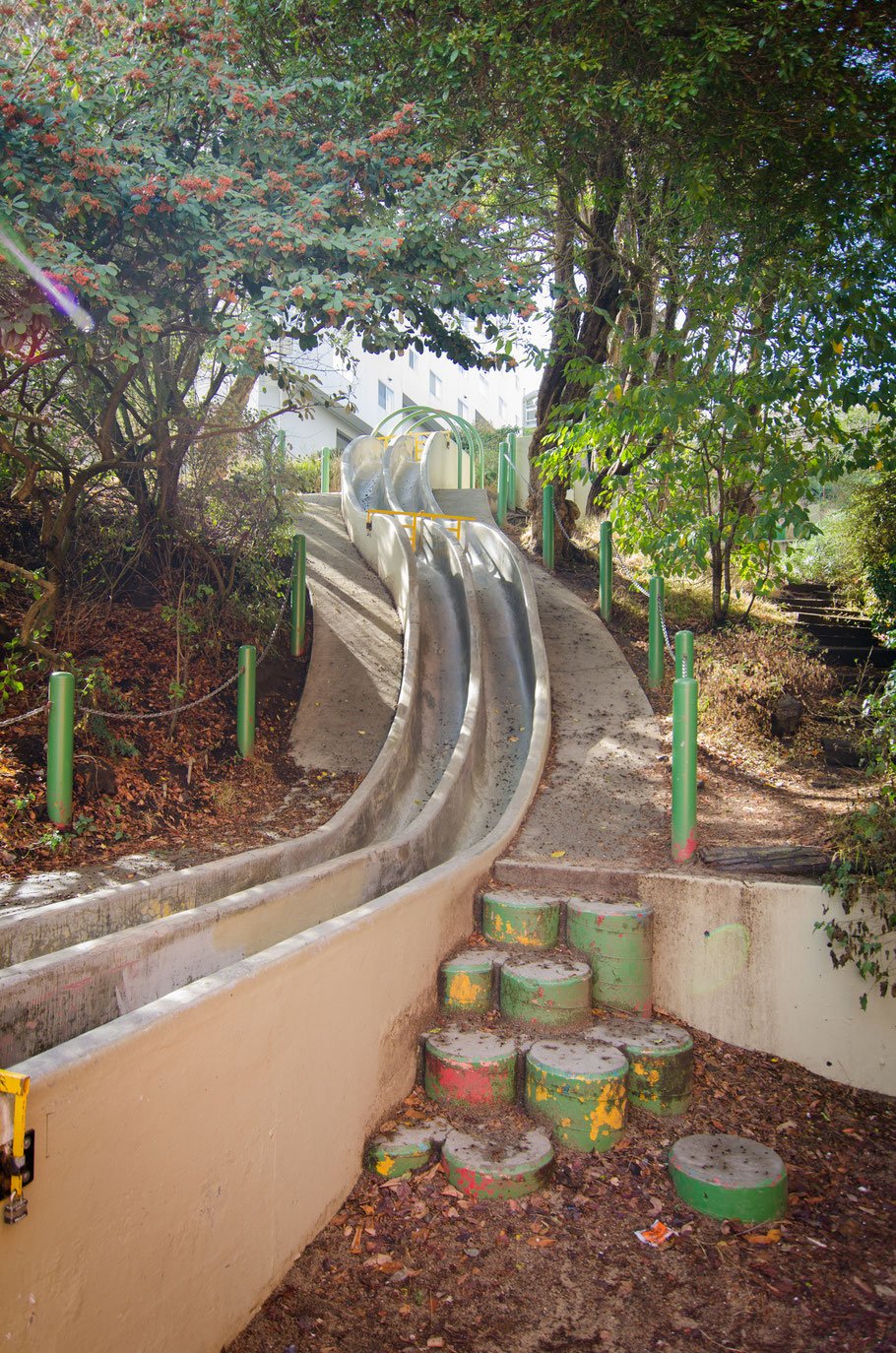 We bet there are still lots of locals who have never been to Seward Street neighbourhood park with the concrete slides. Tucked away from tourist traffic and into the shade, the two parallel chutes are arguably the most exciting in the city to both children and grown-ups. "No adults unaccompanied by children" reads the sign though a grown-up child can still can take a sneaky ride downhill. Bring a plastic tray or cardboard, and keep your arms in or risk rashed elbows. Designed by a 14-old local girl, the slides and the mini-park set the dawn of privately-owned public open spaces in the city after locals fought a 105-unit development on the site for a decade and won not only the space for kids to play but a turnaround in legislation.
Hint: The yellow chute is faster, or so we're told. Also, avoid going after rain as cement surface doesn't dry too quick in the shade.
Slides working hours: 10am-5am, Tuesday – Sunday.
4. Slides in Esmeralda Mini Park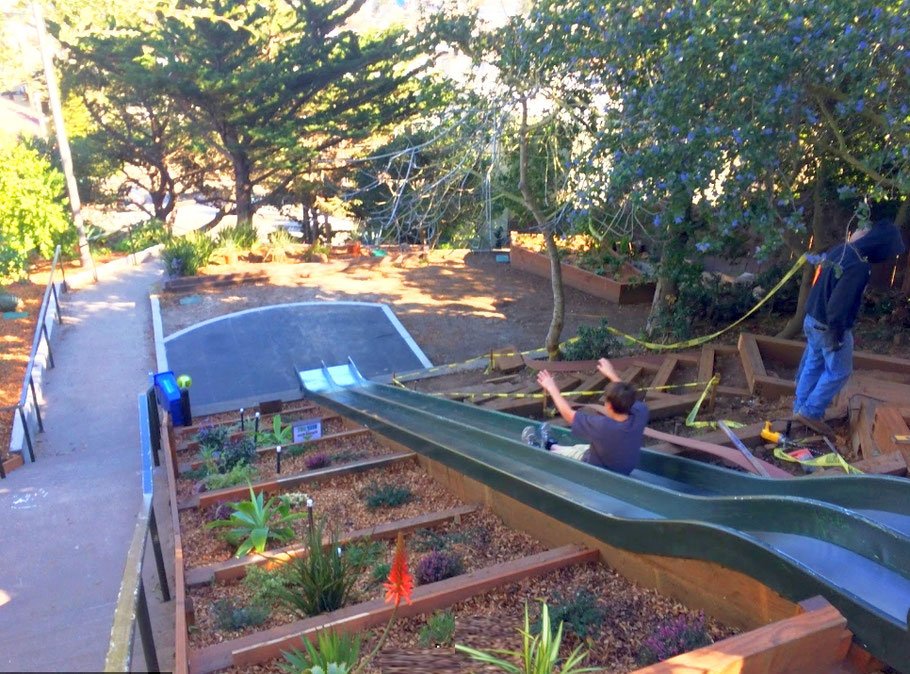 Another public-initiated fun zone runs in the section of Esmeralda Street between Prospect Ave and Winfield St in the Bernal Heights residential neighborhood. The twin slides start with a small bump at the top, then rush 35 feet straight down. Your source of cardboard are two garbage bins at the top and at the bottom of the slide. Just to be sure though, bring your own cardboard or, as aluminium slides go, wax paper. Also, respect the neighbors, keep your excitement-induced screams as down as possible and leave before dusk. The locals started the park in the 70s in what was then officially a 'street'. Renovated in 2016-17 with the help of local volunteers it now features neat cascade trays of vegetation on either side of the twin chutes.
Hint: Start straight away at Prosper Avenue to avoid climbing the stairs for your first slide.
Working Hours: Respect the neighbors
5. Yerba Buena Gardens Slides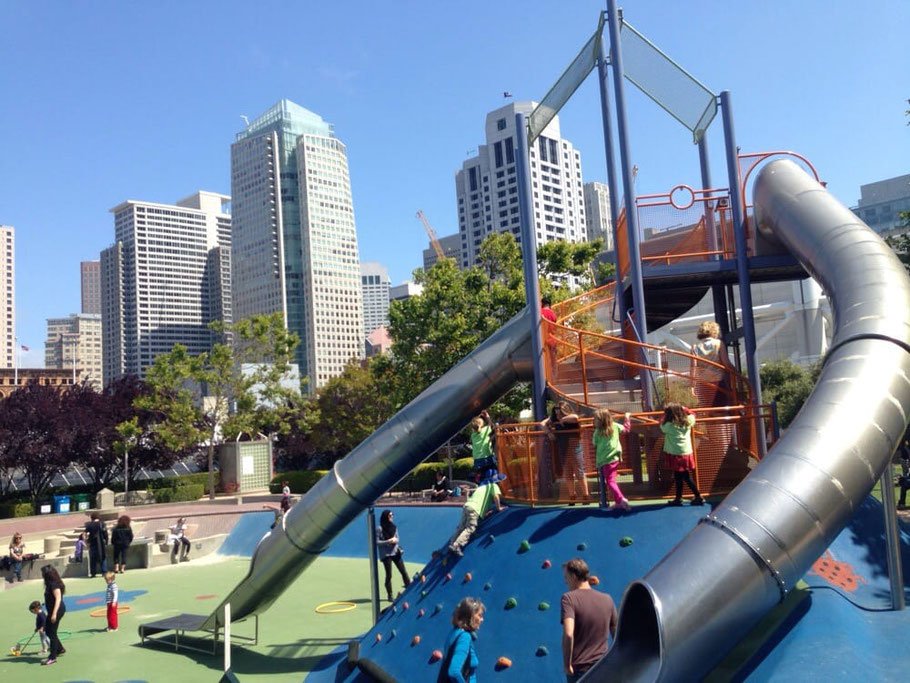 Two giant aluminium tubes to rival the Seward St slides are situated in the Yerba Buena Gardens modern playground in the middle of a soft ground with mini climbing wall. Designed for bigger kids, plus adults are not frowned upon here. Try the shorter or the higher one, they're both proper steep, mind! Other structures there are also pretty awesome but the slides are the real star here right in the downtown San Francisco.
Hint: The neighborhood is well stacked with coffee shops and eateries. Respect the spiralling curves though and resist the temptation to bring takeout – just in case. Go for lunch afterwards.
Working hours: 6 am – 10 pm