Tour guides wanted! No experience required.
We seek enthusiastic people for a young, dynamic tour company! (Spanish below)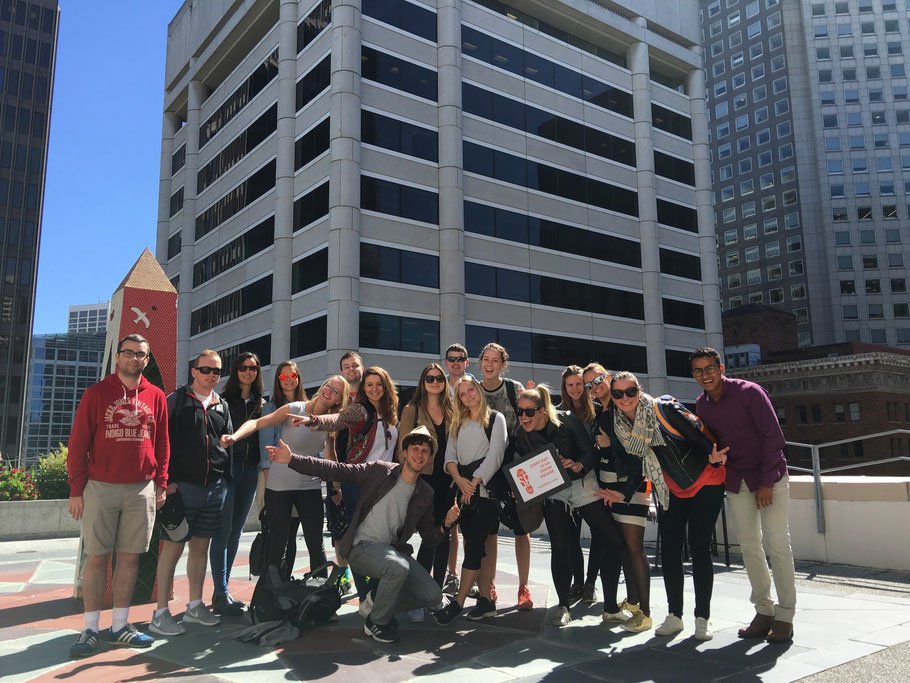 Job Description:
We seek enthusiastic people for a young, dynamic tour company! Vacancies in:
+ New York 
+ San Francisco

Job Description:
We are seeking a fun and well-spoken person to lead our free walking tours. These tours are working on the pay-as-you-wish tours. We guarantee a minimum salary of $80 cash for 2h work (per tour on average for the first month) That's $40 per hour with the opportunity to earn much more. You can do up to three tours daily making $240 minimum. Our regular tour guides after one month of experience make up to $450.
We need people that will carry out these responsibilities:
+ Storytelling in front of 15 – 30 people
+ Speak flawlessly and keep communication level high
+ Make good oratory spokesmen and a leader
+ Willing to learn about the history of San Francisco
+ SPANISH IS A HUGE BONUS!
We can help you with everything mentioned above and give you
the confidence to tell the history of San Francisco!
*** No work experience required! Just need to be a peoples person***
We are hiring for the following shifts: 10 a.m – 12:30 p.m; 2 – 4:30 p.m; and 6 – 8 p.m
(Shifts are 2.5, 5, or 8 hours per day) with flexible schedule
earning $80 – $180 – $450 in tips.
Interested parties: please email us a short motivation letter (a few sentences long) and your weekly availability schedule: days in the week + which of the hours mentioned above will you be able to work?
Training course for new guides involves shadowing 3 tours before
leading them independently. All materials will be provided to you.
FREESFTOUR.COM
============================================
About Free SF Tour:
We are Trip Advisor top-rated tour for Chinatown and
Downtown San Francisco.
The walking tour goes through some main attractions
(Union Square; Chinatown Fortune Cookie Factory;
Transamerica Pyramid; Ferry Building) but also reveals
secret rooftop gardens, public open spaces, and many
secret gems in this city! It's an interactive walking tour
where you feel you're walking with a friend.
Job Types: Full-time, Part-time
Pay: $40.00 – $110.00 per hour
============================================
Vuélvete un guia de turistas!
¡Buscamos gente entusiasta para formar parte de una joven y dinámica empresa!
Haz pensado en:
*¿Aprender cómo contar una historia a muchas personas?

*¿Cómo hablar fluidamente incluso si tienes acento? 

*¿Volverte un buen orador y líder?

*¿O quizás solo quieres aprender más Historia de San Francisco?
Nosotros podemos ayudarte con todo lo mencionado y darte la confidencia necesaria para compartir la historia de San Francisco!
Estamos contratando para los siguientes horarios 10:00 am – 12:30 pm y 2:00 pm – 4:30 pm turnos de 2.5 horas por día con horario flexible, ingreso promedio de $80 a $450 en propinas. 
**Interesados, favor de mandar email con un pequeño resumen sobre ti y tu disponibilidad semanal. Aplicaciones sin estos dos elementos no serán consideradas.
El curso de entrenamiento para nuevos guías incluye completar 3 tours con uno de nuestros guías antes de comenzar a hacerlos independientemente. ¡Todos los materiales incluidos!
About Free SF Tour: 
Somos de los mejores tours por Trip Advisor  en Chinatown y Downtown San Francisco.
El tour caminando pasa por algunas de las atracciones principales ( Union Square, Chinatown fortune Cookie factory, Transamerica Pyramid, Ferry Building) y también revelamos los jardines secretos del distrito financiero, espacios públicos y muchos otros secretos de esta ciudad!
Este tour es muy interactivo por que se siente como caminar con amigos!!
 info@freesftour.com or call  (415) 503 – 7199
FREESFTOUR.COM