Free SF Tour made great strides this year after being voted #2 free tour North America based on ratings and reviews by travelers on freetour.comSan Francisco beats Havana to the second place, right behind the chart-topping Mexico City.
Is there any reason to celebrate when you're only second best, one might say. AfterFree SF Tour was voted 3rd best tour for two years straight, moving up a position in 2019 is both an achievement and a challenge. As one classic ad said at the time "We're only number two. That's we try harder".
Yes we do! The first free walking tour in Spanishin San Francisco that we launched in November is proving popular among Spaniards and South Americans even off-season. It's getting good reviews and and ratings, and we'd love to see San Francisco Free Tour a Pie top of the list at some point too.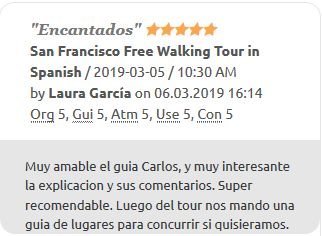 Not getting ahead of ourselves, we'd like to thank you all travelers from over 100 countries, first-timers and locals, who walked with us in the city we love!