Times of crisis made us swap global audience for our next-door neighbors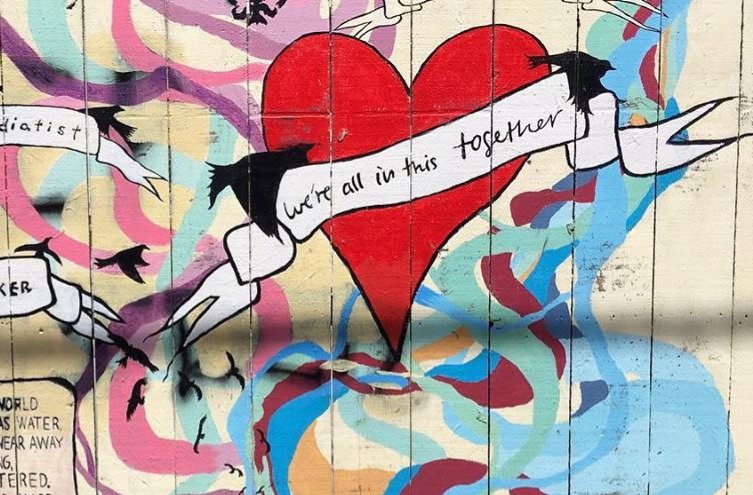 On March 17 I was at Union Square when San Francisco became one of the first cities in the US to declare 'shelter in place'. I was listening live to Mayor London Breed describing the measures to limit the spread of an invisible but deadly foe: all public gatherings are off, stay at home, only go out for essentials, keep social distance, protect yourself and others.
While there I had a flashback of all those days of waking up every morning for the past 4.5 years and going to the corner of Post and Powell at Tony Bennett's Heart to meet the world. Do another tour through Maiden Lane, the small alleyways of Chinatown, taste the freshly made fortune cookies, explore the hidden gardens in the Financial District, share a laugh with a bunch of enthusiastic travelers and curious locals.
Just the other day I was estimating my budget for the high season thinking of how many tours we would be making, how many tour guides we'd need… we were scheming a tour guide exchange program, designing new tours to meet amazing people and introduce them to the past and present of our city…
All of that was wiped out of my head in a matter of 24 hours.
I was coming to terms with the fact that the free tour company I created, one that hardly missed a day in four-and-a-half-years, is now shutting down. Our organization is small, a handful of tour guides with our back-office managed online by another friend. A friendly social circle made of survivors but designed to thrive. Anyone who has ever been on my tour would have guessed that social distance is not a trait native to me. Shutdown is not a word in our vocabulary. We went back to setting up our priorities for a period that was at first announced to be two weeks but might take months of isolation: no more tours, no money, but – more importantly – not being useful to people anymore.
How to stay healthy, practice social distancing and still make enough to pay the rent?
Jose and I are the two tour guides living in San Francisco. As you all probably know, the rents in San Francisco are ridiculously high. Meaning, even with a loan from the bank, we still can't survive for a prolonged period of crisis without income. Living the dream in the City By The Bay comes at a price.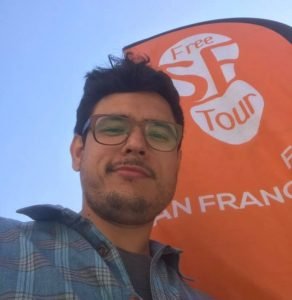 About 18 months earlier I had met Jose on one of my tours. He had joined the training and a month later he was doing tours in the city! His tour in 2020 was named the best Free Walking Tour in Spanish in the United States and a Runner-up on the continent (only behind his native country's Estación Mexico Free Tours) by freetour.com.
One night, Jose and I were chilling on the 19th-floor rooftop garden – a dozen floors under it was the place where I was inhabiting at that time. The building was astoundingly big! There were two wings of 800 apartments each and another part still in construction! Jose was telling me he was a restaurant chef and before becoming a tour guide he has a 10-year experience cooking in restaurants, events, ship cruises and even as a personal chef.
We were toying with the idea of cooking in our apartment for the residents of the building. I was living in a converted living room in a 2bd/1b apartment! Yikes! But we were all busy in the mornings and afternoons, with just enough time for a quick snack between tours. It was the same time as we had to be cooking. The idea was simply shelved as meeting new people from all over the world was a much more attractive proposition.
Yesterday's shelved ideas bring value today
Now we are sharing another apartment with a lot of spare time on our hands in a very large development. Our new 29th-floor amazing 270-degrees view of the San Francisco Bay Area suddenly rang a bell. It brought back a memory of an old idea that was suddenly needed and useful to our community.
What would you expect from one professional chef and one Ghirardelli chocolate factory ex-worker?
Jose made the menu of the week and wrote a wholehearted letter to our neighbors. In the first 3 hours of having the letters out, we got 29 orders! We were mindblown by the responses we got! The next day we woke up early in the morning and started cooking for our neighbors! While José was working his magic in the kitchen, I would deliver the food at their doorstep and knock at the door. I would go back 6 feet and when they come out, greet them with a simple "hello" and a smile from a distance. With pandemics roaming, a lot more people stay home, avoiding going out to pick up food and expose themselves. They don't even have to catch the elevator – just open the door and their food is there, cooked by their neighbor minutes ago. Some of our neighbors just left us tips on Venmo and saying "Thank you for doing this", others were asking us if they could tell their coworkers!
Don't just wait for the tide to turn, times of crisis love speed
It's a great feeling knowing that what we are doing helps other people in our community. While living in San Francisco I noticed that these people despite the hardships we are all going through they still hold on to each other, open the door for each other, tell jokes in the elevator to strangers. We know we are all in this together. We are very lucky to help and support our community.
Every time we hit a wall on our way we have to go back to learning. We have to accept the facts faced, recognize the resources we have and learn what's needed to continue making two ends meet. You need not be afraid that it may get muddy on the way and you have to get your ass out of that comfort zone and work!
I hope you all stay healthy and safe wherever you are right now.
– Filip