Whoa, what a year! It was almost unthinkable there would even be a holiday season. Yet, here we are!
If you're in San Francisco around Christmas, you wouldn't want to miss seeing some of the best house Christmas decorations and displays in the area now, would you? 😉
With Christmas around the corner we'd like to give you an early Christmas gift – below you'll find out 5 favorite houses for the 2021 holiday season!
TOM AND JERRY'S HOUSE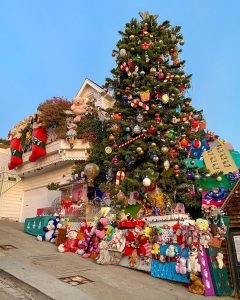 The so-called "Tom and Jerry House" is a local favorite of the Castro neighborhood. Every year, since the 1980s, the gay couple Tom Taylor and Jerome "Jerry" Goldstein" go above and beyond with the Christmas decorations.
For over 30 years their adorable Victorian home has been transformed into a larger-than-life outdoor Christmas living room: a massive, 65-foot Christmas tree in the front yard with enormous colorful presents underneath, giant-sized stockings, and teddy bears hanging from the deck.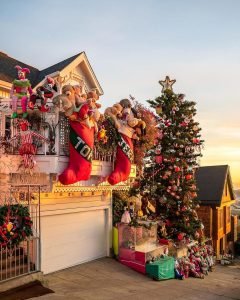 Kids get to meet Santa every day through Christmas Eve from 6:30 pm to 9:30 pm. The house is illuminated each night until January 1.
However, on October 20 2020 Tom passed away at age 77 due to cancer. The house has been decorated this December as well but we can only hope for this tradition to stick in the future. Better pay a visit while you still can!
Address: 3650 21st St., San Francisco, CA 94114
45 UPPER TERRACE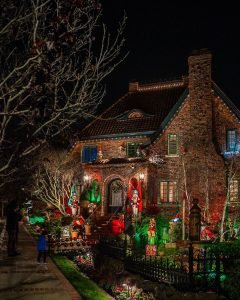 This gingerbread-looking house is arguably one of the most popular holiday homes in San Francisco. During the Christmas season, the garden is decorated with enormous nutcrackers and colorful lollipop-looking balls surrounding the alley to the front door. And Santa himself!
This house is a bit of a landmark in the neighborhood. Apart from Christmas festivities, the owners proudly decorate the house for other holidays such as Valentine's Day, 4th of July, and Halloween. Just imagine how spooky it gets on Halloween!
A Challenge: can you count all Christmas gnomes crawling on the roof or hiding in the garden?
Address: 45 Upper Terrace St., San Francisco, CA 94117
68 CASTRO STREET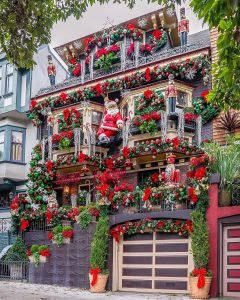 This house offers one of the best photo opportunities with the cute bench in front, the huge Santa Claus figure between the two front windows, the giant candy canes, the diverse festive ornaments, all giving a feeling of coziness to pedestrians.
Just how wonderfully everything lights up when it gets dark!
Also, can you imagine it only takes about 8 hours for this house to completely transform into a Christmas fairytale? What a crew!
Address: 68 Castro St., San Francisco, CA 94114
ILLUMINATED ARCHES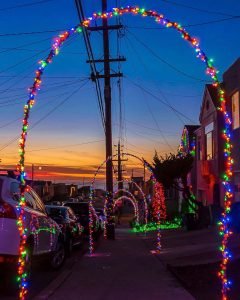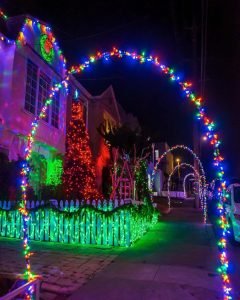 Over in the Outer Sunset, on Rivera Street between 42nd Ave and 43rd Ave, the sidewalk on the north side of the street is lined with a row of several illuminated arches of colorful lights spanning almost the entire block.
It's impressive that all arches are powered by each of the neighbors! What a holiday spirit especially in times like these!
The Outer Sunset is over by Ocean Beach and this alley is just a few blocks off. When it's not foggy, this makes a perfect spot for watching the sunset. Our suggestion is to go there at dusk if it looks like the weather will be good, or go after sunset when the arches will be illuminated. Kids will enjoy them even more!
Address: 3218 Rivera St., San Francisco, CA 94116
MERCED HEIGHTS HOUSES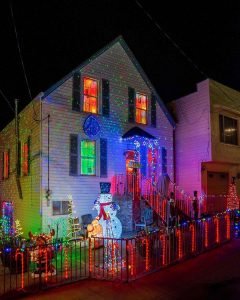 Here we're referring to 3 out of the 4 corner houses at the intersection of Garfield St and Monticello St in Merced Heights in particular, but other homes in the area may also bring Christmas spirit as you pass them by.
This cluster of San Francisco homes is fully-illuminated and decorated for the holidays!
The owners of these homes are very passionate about their decorations. They have gone all out with lights, inflatables, nativity scenes, and decor. One of the houses even has all kinds of retro lawn decorations! Another one keeps adding new details so we can be sure it will be better with each visit!
We recommend coming here after 6:00-6:30 pm to catch the lights of all houses. It would be best if you came when it's completely dark to enjoy the displays in their full glory! The kids will also love them!
An interesting fact: at the beginning of COVID the family in one of the houses has stood outside with positive encouraging messages on signs waving at cars and blowing bubbles! And it's still happening even today (without the bubbles as they short out the lights)!
Address: 848 Garfield St., San Francisco, CA 94132 (Garfield and Monticello St)
Did you enjoy your visit to any of the houses? Let us know how your experience was! It will help other visitors in the future as well!
Merry Christmas and a Happy New Year!