Alright, you have a couple of hours to spend between conference and dinner, chances are your starting point is a downtown venue. So what to do in downtown San Francisco when you're short of time? Read on.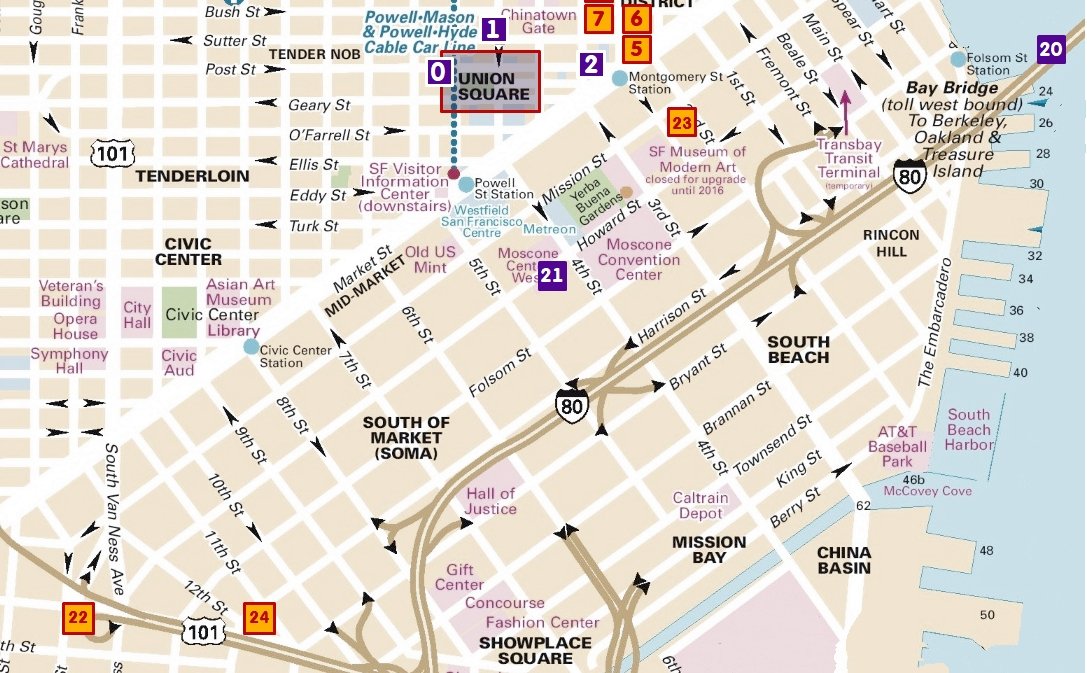 What to see in SOMA, San Francisco?
To make sure you're going in the right direction take the Market Street with the Bay Bridge visible and turn right wherever. But start at Union Square and use your time less touristy with our list of places to visit within walking distance. Use the map below.
See also:
Treasure Island
This picture was taken from Treasure Island. It's possibly the best place in town to watch the city lights come up at sunset. Walk the Bay Bridge and stroll down at halfway across. Meditate. Then hit the bars. 20 on map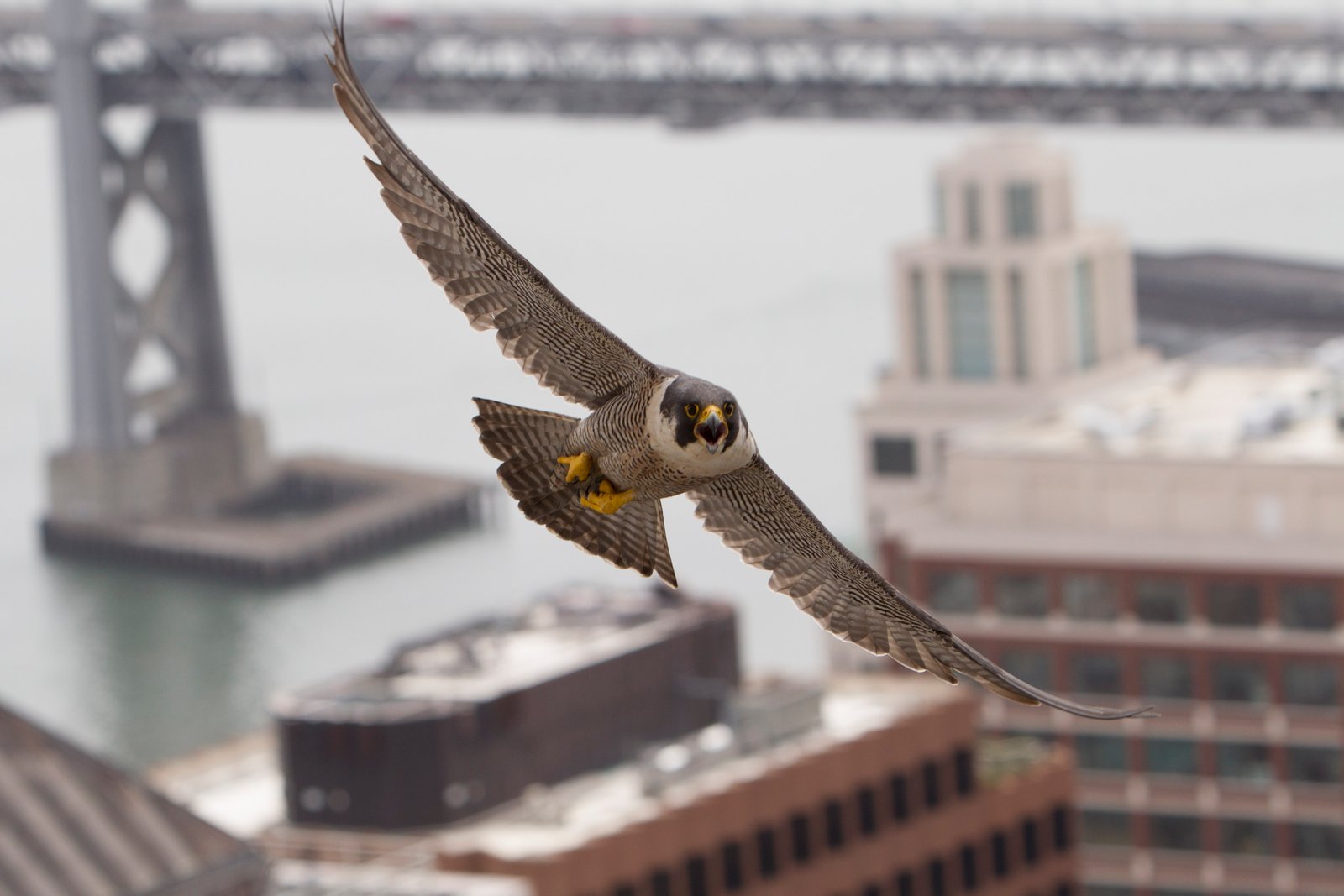 See above for details
Details being the San Francisco peregrine falcons, a once nearly extinct species who now stalk for pigeons from the SOMA and Financial District's buildings. It's amazing that birds of prey choose the glass-and-concrete environment of the Downtown but they do and every couple of years the PG&E building's 33rd floor becomes a home to a mating couple of falcons and their fluffy offsping. 21 on map Check the falcon webcam at pge.com/falconcam
Where to eat and drink in South of Market, San Francisco?
Novela ● 1799 Mission St
The gateway to Mission District from SOMA, this spacious bar gets crowded for a reason. People go there for: after-work drinks, reasonably priced by San Francisco standards. Food is served before 9 a.m. Try: Bourbon-infused Jay Gatsby; also watemelony Alice White for the sweet toothed. Yes, every cocktail bears a literary reference, and books dominate the interior. Novel. By the way, the kink-themed Armory is next door. Whatever sails your boat, Hemingway. 22 on map
The Bird ● 115 New Montgomery St
Hunger will lead you. People go there for: Chicken. Go after 3 p.m. to avoid the lunchtime lines. Try: the $13 menu, fries and beer included. Unassuming outside, pay attention to not pass it by. 23 on map
---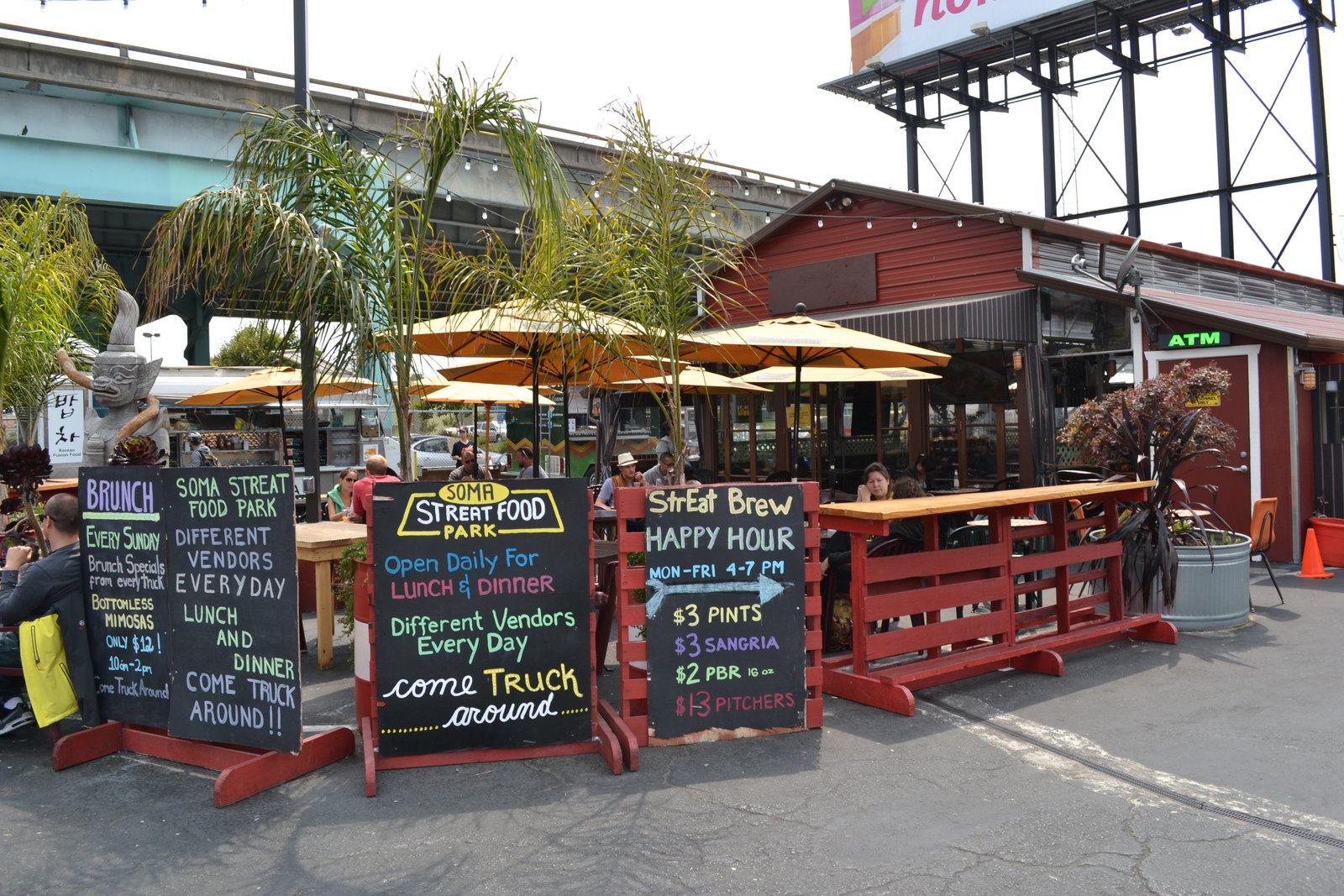 SOMA StrEat Food Park ● 428 11th St
Place to go for variety of cuisines on wheels: Mexican, Korean, Gyros, Pizza, Burgers, Barbecue, Fusion. Different vendors every day. People go there for: variety, events like trivia nights or live jams. Try: happy hour between lunchtime and dinner. Features vegan vendors on weekends. 24 on map
Union Square and Free SF Tour
Best way to get introduced to the City is to join the Free SF Tour – a free walking tour that shares the history of San Francisco, the sunken ships in the Downtown, influential women, recent developments, tips and tricks to the city. It ends with with the famous Free SF Bucket List giveaway – an extensive insider list of San Francisco places and experiences. Free SF Tour operates two tours every day at 10 a.m. and 2 p.m. from Union Square, starting at the Tony Bennett's Heart at the corner of Post and Powell St. 0 on map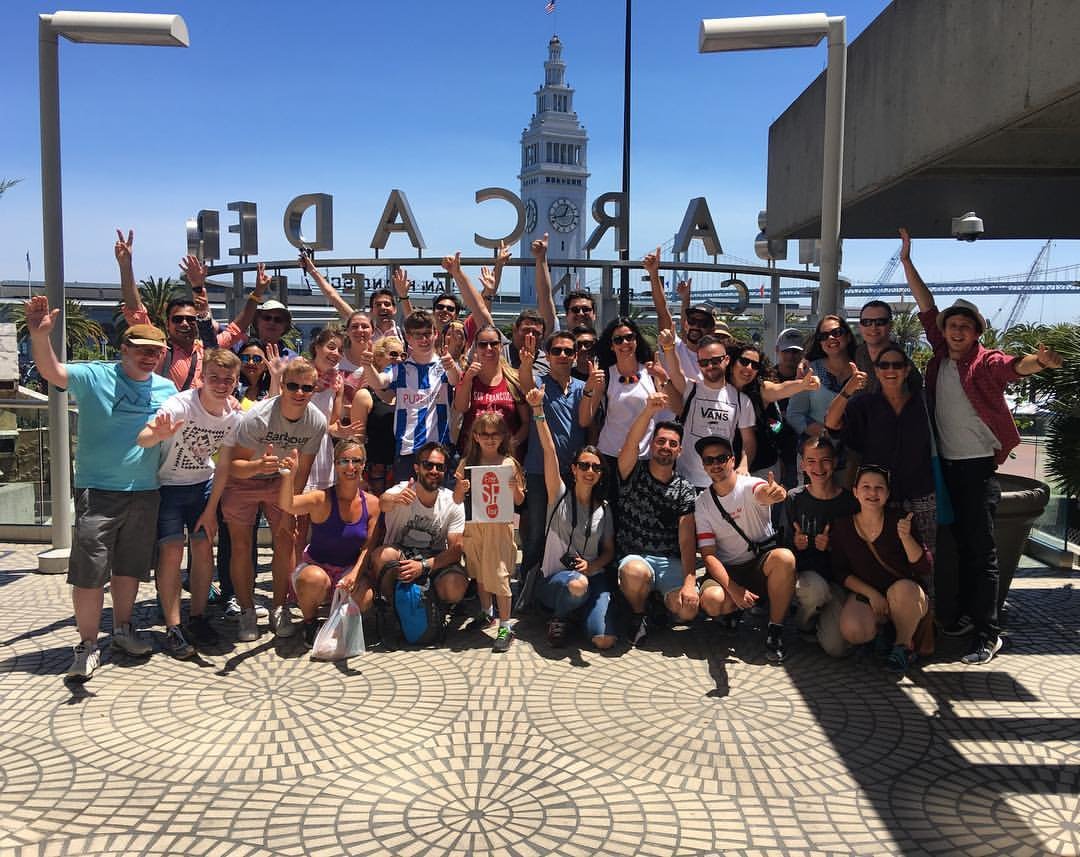 See also: